Commitment Profile
Countdown: Brendan Aguilar Chooses the Runnin' Rebels
by Rhiannon Potkey, 21 March 2012
Brendan Aguilar's commitment to the University of Nevada, Las Vegas meant much more than it would to the average tennis player.
Not only did it secure Aguilar's dream of playing college tennis, it ensured he would be the first in his family to attend college.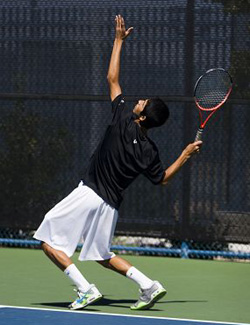 "Everyone is really happy about it," Aguilar said. "Hopefully, if I ever have kids, they would go to college and we could start up a college tradition."
Choosing to attend UNLV means Aguilar will stay close to home. Unlike some kids who want to spread their wings and exert their independence, the Las Vegas native preferred to remain near his family.
UNLV's campus is located just 15 minutes from his house.
"I have been traveling my entire life to tournaments," Aguilar said. "I am ready to stay at home now."
Aguilar's recruitment to UNLV was sparked by his friend, Willie Sublette, who is a sophomore on the team this season.
"He kind of persuaded me and talked me into UNLV," Aguilar said. "The more I looked into UNLV, the more I really got interested in it."
If not for tennis, Aguilar is not sure he would have the means to attend college.