Tournament Summary
Austin, Schneider Give Indiana Sweep of Spring National Singles Titles
by
Colette Lewis
, 23 March 2012
When Brooke Austin and Ronnie Schneider play their next practice set in Indianapolis, expect the fiercely competitive pair to bring even more intensity to their workout. After each captured a gold ball at last week's USTA 18s Spring National Championships, that next set could determine the overall champion among the 256 boys and girls who competed in Mobile, Ala.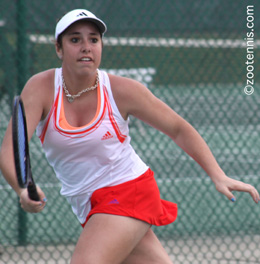 Both faced stiff resistance in the finals, with No. 6 seed Austin trailing 6-2, 2-0 against unseeded
Lexi Borr
before coming back for a 2-6, 6-3, 6-2 victory, while the third-seeded Schneider held off longtime rival and current
Winter National
champion
Jared Hiltzik
, the tournament's top seed, 6-4, 4-6, 6-4.
Borr, a 16-year-old lefthander from New Jersey, had a breakout tournament in Mobile, beating the No. 5, No. 3 and No. 8 seeds in succession to reach her first National Level 1 final. Austin, out for over four months last fall with stress fractures in her foot, had suffered a shoulder injury in a recent National Open and was unsure if she would be able to play until two days before the tournament began. Three three-set wins and a compressed schedule due to two days of rain did not make for ideal circumstances for Austin, and in the opening set, Borr looked to be the more aggressive and confident player, despite her lack of experience.
"It took me a while to get adjusted to her," said the 16-year-old Austin. "She hits topspin and then backspin, mixes it up. It's sort of different, and it took me a while to get used to it. And I wasn't really moving my feet that well in the first set and a half."
Borr put Austin on the defensive from the beginning of the match, which is not how Austin likes to win points. She prefers to stand on or inside the baseline and go for the lines, but Borr's depth and placement, plus Austin's own errors, took her out of that comfort zone.
After Austin evened the match, she got some advice from Schneider's coach Bryan Smith, the son of Jeff Smith, who is Austin's primary coach in Indianapolis, but was not in Mobile.
"He told me to hit a lot more to her forehand, and in the third, it started breaking down," said Indianapolis' Austin. "I started figuring out how to get her off-balance, get her to hit more short balls, and take more balls out of the air."
Borr broke Austin to open the third set, but then lost five straight games to give Austin a chance to serve for the match. She was unable to finish on her serve, admitting that she began to feel a few nerves, but Borr wasn't able to capitalize. In the long final game, Borr attempted to inject more of the aggressive play that had worked so well for her earlier, but when her forehand volley went wide on match point, Austin had the title.
"I was probably feeling a little fatigued from the past few matches," said the disappointed Westfield NJ resident, playing in just her second National Level 1 in the 18s. "She played really well, started making a lot of shots, and I probably should have been more aggressive at that point, but I let it get away from me."
Despite the loss, Borr knows she will ultimately look back on the positives.
"It was a great tournament for me, and I learned a lot," said Borr, her voice full of emotion, a tear spilling down her cheek. "I learned I could compete with these girls."
With her tenth gold ball, Austin wasn't facing those questions, but she was pleased to end a fall and winter full of injuries.
"It's been a while," said Austin, who doubled her fitness work when she couldn't play matches. "I'm still in shock right now, because two days before the tournament started I couldn't lift my arm. So it's a nice surprise for me, that's for sure."