Tournament Summary
ITF Easter Bowl Titles are Early Birthday Gifts for McDonald and Townsend
by
Colette Lewis
, 19 April 2012
Mackenzie McDonald and Taylor Townsend were both born on April 16th, one year apart. Last weekend, one day apart, they claimed ITF Easter Bowl titles at the Rancho Las Palmas Resort in Rancho Mirage, California.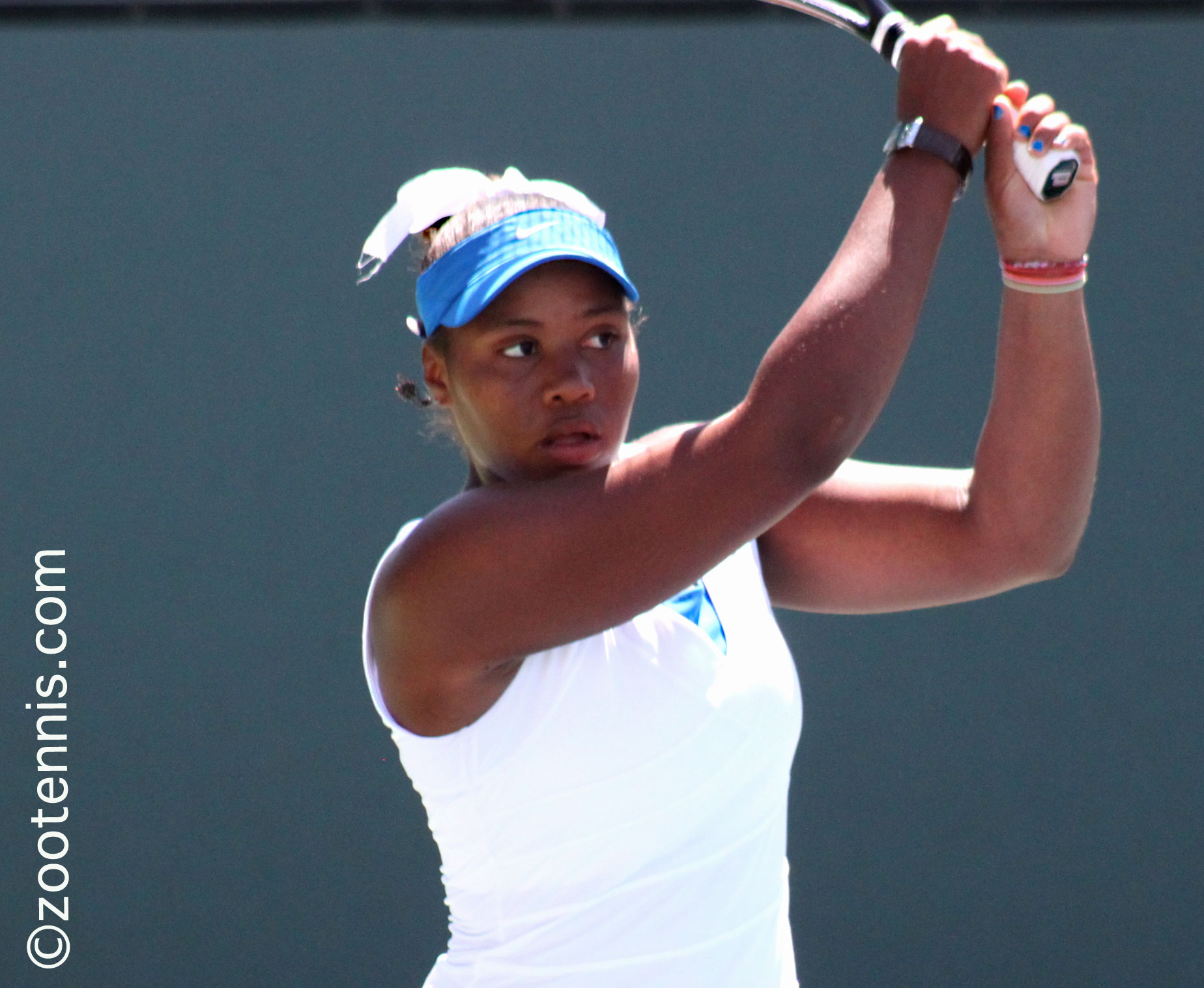 Australian Open girls champion Townsend, the top seed, had the more difficult route, with a rare Coachella Valley spring rain storm on Friday forcing her to play both her semifinal and final matches on Saturday. She defeated unseeded
Mayo Hibi
by a 7-6(0), 6-4 score in the morning's semifinal to book her place in the final opposite
Brooke Austin
. Austin trailed No. 7 seed and
International Spring
champion
Allie Kiick
5-1 when their semifinal match was suspended late Friday afternoon, but she came back Saturday morning to earn a 2-6, 6-2, 6-4 victory.
The unseeded Austin, 16, and Townsend, who would turn 16 in two days, hadn't played in over a year, primarily due to Austin's foot injury, which kept her out of the major ITF tournaments last fall and winter.
In the final, Austin opened with a break and took a 2-0 lead, only to lose the next four games, with multiple double faults in most of her service games. She didn't let that frustrate her however, and once Austin got the ball in play, she was pounding winners left and right. Down 2-4, Austin won the next four games to secure the first set, and Townsend knew she had to make changes.
"I was really upset at the end of the first because I had it at 4-2," said Townsend, a Stockbridge, Ga. resident who trains at the USTA's National Center in Boca Raton. "I went on the side, read my notes, closed my eyes and calmed down, tried to take it slower. She likes to rush, so I tried to take it slow and relax."
Austin takes the ball on the rise, which gives her opponent no opportunity to read and react to the ball, and she also wastes little time between points, which leads to the feeling she is always in control. In the second set however, Townsend found her own rhythm, and reeled off nine consecutive games to take a 3-0 lead in the third set.
"Taylor played really well the second set," said Austin, an Indianapolis resident who won the Easter Bowl 14s title in 2009. "I didn't play as well. But I was just trying to stay aggressive, and hopefully it would work, which it did a little bit."
Austin got back into the match in the third game of the final set, and although Townsend fought off two break points by serving and volleying to take that 3-0 lead, Austin had demonstrated she wasn't going away. She held and broke to get back on serve at 2-3 but that stretch of four straight breaks didn't end until Townsend served for the match at 5-3.
Townsend started with a double fault and was down 15-30 after Austin's return - her best shot all week - produced another winner. But Austin missed a forehand, then a backhand volley, giving Townsend a match point, which the left-hander converted when Austin missed on her forehand volley.
"When she would step in on the second serves, she was really putting a lot of pressure on me," said Townsend, who adjusted her serve in response to the winds that were gusting over 30 mph. "When she was hitting flat, directing it to my backhand, I wasn't getting to any of those shots, so I had to come up with some first serves, or some better second serves, which is what I did to close it out."