Who's Hot?
Hot 100 List - May '12
by Amelia Thomas, 18 May 2012
As the school year comes to a close, everyone's schedule gets busier. For students, final exams and projects loom large - but junior players also take advantage of the better weather to train and compete. We catch up with some of those players who have been playing excellent tennis - in the May edition of the Hot 100.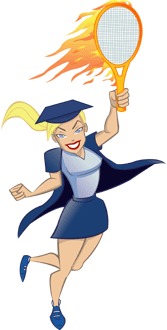 The Hot 100 lists are published each month, and the May Hot 100 lists feature the one hundred boys and girls who most improved their rankings during the month of April. You can find out more about the Hot 100 - and how the lists are calculated - by reading here.
The latest lists, published earlier this week, are available here:
We checked in with a few of these top performers...
Roundup
Eli Whittle (Nipomo, Calif.)
We start off with a first for TennisRecruiting.net. This month, our Hot 100 article features two siblings who both appear on the Hot 100 List: Eli and Sophie Whittle.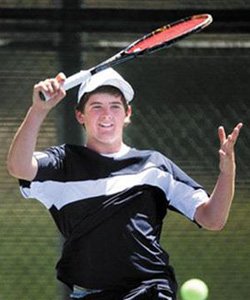 For three-star junior
Eli Whittle
, this is the second consecutive month on the Hot 100 list. Since the beginning of April, Whittle has moved up over 150 spots in the Athletic DNA rankings.
In early April, Whittle competed in the 61st Annual Central California Jr. Tournament, reaching the finals. Later in the month, he also won a title in the 16s division of the 112th Ojai Valley Jr. Tournament, bringing his record for April to 6-0.
When reflecting over his successes last month, the Ojai Valley Tournament comes first to Whittle's mind. Whittle puts emphasis on this tournament not only because he won it but also because of his struggles throughout.
"Every round was pretty tough," he said. He was the ninth seed in the tournament. In the semifinals, Whittle faced blue-chip freshman Michael Genender. This is where everything nearly fell apart for Whittle.
The physical trials of this match caused him to nearly default. "I had to throw up, and I felt exhausted," he said. "My head [and my stomach] hurt really bad. I was getting chilled. This never happened to me before."
Rather than give up, he made the difficult choice to take a medical timeout. "Eli is a boy that thrives on challenge. He constantly challenges himself in all that he does," said Whittle's mother, Kristi Whittle. "He thrives under pressure [while] other players succumb to it."
Eli Whittle had performed well so far, defeating three-star junior Ethan Lopez in the round of 16 and five-star freshman Fabian Schaefer in the quarterfinals. Whittle felt optimistic about the outcome of the tournament. "I thought I had a good chance to win it all," Whittle said.
He was able to make adjustments and take the match, 7-6(4); 6-3. Later, he faced five-star sophomore Nikolas Ramadan, winning the match - and the tournament - with a 6-2; 6-2 victory.
In addition to this accomplishment, Whittle has won the league title in tennis for his school, Arroyo Grande High School, all three years. He just won his third title earlier this month on May 4.
Whittle's parents are constantly impressed with their son's achievements. "Eli is one of the hardest working individuals I know," Kristi Whittle said. "If he wants to achieve something, he won't stop until he reaches his goal. I am constantly surprised by his tennis and what he continues to accomplish."