Who's Hot?
Hot 100 List - June '12
by Dallas Oliver, 18 June 2012
Summer is in full swing, with Sharapova and Rafa winning the first Grand Slam titles of the season last weekend at the French Open. There is a lot of tennis yet to be played, and some juniors are already seeing the fruits of their labor. We take a look at junior tennis players who have already recorded excellent results - in the June edition of the Hot 100.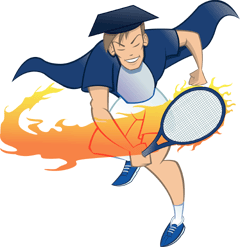 The Hot 100 lists are published each month, and the June Hot 100 lists feature the one hundred boys and girls who most improved their rankings during the month of May. You can find out more about the Hot 100 - and how the lists are calculated - by reading here.
The latest lists, published earlier today, are available here:
We checked in with a few of these top performers...
Roundup
Cristina Dilorenzo (New Albany, Ohio)
For the Dilorenzo family, tennis is a family affair. All three Dilorenzo girls - rising senior Cristina, rising sophomore Francesca, and rising 6th-grader Valentina - compete at a high level, earning national rankings on TennisRecruiting.net. Their parents, Daniela and Carlo Di Lorenzo, like that the sisters push each other on the court.
"A family commitment to tennis has made it fun and helped our girls focus on the sport," they said. "Tennis is our main activity."
Cristina Dilorenzo has had great focus in recent weeks. The 3-Star senior posted a 9-2 record during the month of May, winning the Greater Columbus Qualifier and reaching the consolation finals of the USTA/Midwest Level 3 over Memorial Day weekend. That performance was good enough to lift Dilorenzo's ranking almost 30 spots to a career-high of No. 158 in the Class of 2013.
Dilorenzo has been working hard to build her endurance and fitness, and she credits her better results to improvements in those areas.
"A big difference has definitely been my fitness. I have been working a lot on conditioning, and that has been helping my game. I have played a lot of tiebreakers in my last few tournaments, and I think I was able to win a lot of those tiebreakers because I am physically stronger - and I get less tired. Of course, a bit of luck also didn't hurt! (Laughs)"
Dilorenzo plays a patient game, and she takes advantage of the fact that she is a southpaw.
"I like to wait for the right opportunities to attack," she said. "Until then, I like to hit deep, heavy balls. I think being left-handed definitely helps since my crosscourt forehand [usually] goes to their backhands. I like both my forehand and backhand equally."
Dilorenzo's parents have noted their daughter's improved fitness as well, but they see a number of improvements in her game.
"She has definitely improved her stamina, and she has a lot more consistency in her baseline strokes. Cristina has excellent composure and focus on the court - while still having a very competitive spirit."
And, with a name like Dilorenzo, Cristina's diet gives her plenty of energy.
"Since my parents are from Italy, I eat pasta three or four times a day. I'm not sure, but maybe this is helping my game - it's probably not what most other players eat. Other than that, I like eating meat, but I don't like fruits or vegetables."