Clay Court Championship Week
Higuchi wins Battle of California in 14s
by
Gary Curreri
, 25 July 2012
For years Emma Higuchi and Angela Kulikov often talked or texted about playing in a final of a tennis tournament.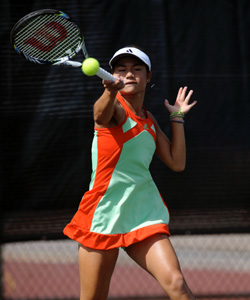 The two best friends found themselves competing for a gold ball at the
National Clay Court Girls' 14s Championships
at the Veltri Tennis Center at Plantation Central Park on July 20.
The Los Angeles 14-year-olds carpool for an hour to the United States Tennis Association (USTA) National Training Center in Carson, California and will practice with one another. They once played doubles together in the 12s and placed third in the nation. However, they had never faced each other in singles until the final of the Clay Court 14s.
"I have known her since I started playing at age 8," said Higuchi, who rallied for a 1-6, 6-2, 6-1 victory to win the second gold ball of her career, and first major title on clay. Higuchi also won the prestigious Easter Bowl in April for her first gold ball. "It was hard playing my best friend. "We liked playing each other. I mean on the court we were enemies, but off the court we're best friends."
The 5-foot, 6-inch Kulikov, who entered the tournament as a wildcard, dominated the first set and kept the top-seeded 5-foot-3 Higuchi behind the baseline before finishing off the point either at the net or with a follow-up forehand.
However, the momentum turned with Kulikov serving at 2-1 of the second set as nerves kicked in. The more experienced Higuchi turned the tables and ran off six consecutive games. After Kulikov won the second game of the third set to knot the set at 1-1, Higuchi went on to win the next five games and breaking Kulikov two more times in the process.
"This being a big moment for me, I haven't really been here before so I got pretty nervous," Kulikov said. "I do have a tendency when I get nervous to do some crazy things, losing my game style like drop shots from behind the baseline. Hopefully, I can be in this position again, have a little more experience and learn to deal with those situations a little better."