Commitment Profile
TJ Pura Picks Blue Devils
by Marcia Frost, 21 August 2012
Blue Chip Thomas (TJ) Pura has decided to stick with the color that suits him and will be heading to the Duke Blue Devils next fall.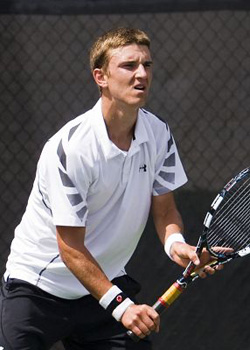 While Pura still has to make it official with another visit - he did see the campus in January and met the team and coaches - and the signing of a letter of intent in November, his decision is so solid he was sporting a Duke hat at Kalamazoo and calling Ramsey Smith "Coach".
TJ Pura is one of those rare consistent players that has kept winning titles (in singles and doubles) since he began taking home trophies at Little Mo tournaments at the age of eight. In fact, the early successes of TJ Pura are well-documented in a film his father worked passionately to finish, 50,000 Balls.
The documentary chronicled TJ and three other boys (including Joseph DiGiulio, Mitchell Krueger and Mitchell Polnet) as they made it through the 12 and under national tournaments. The movie, which TJ's mom Sara Weinheimer brought to public view on ESPN after her husband's sudden death, is a deeply moving behind-the-scenes look on what goes into a junior tennis career from the parents, coaches and players.
Seventeen year old Pura finished last year ranked 21 in the nation. He had won the Gold Ball in doubles at the USTA National Winter Championships with partner Brendan McClain just a month after taking a National Open in Irvine, California. His consistency at placing in tournaments and sticking around to fight his way through the backdraw when if he loses in the main has kept him high in the rankings for most of his junior career.
TJ Pura split his childhood between New York and California, but when it came to picking a college, he choose neither. "Location was definitely a factor in my decision," he said. "I picked North Carolina because I wanted to explore a different part of the country. "
The proximity to the Big Apple was also a consideration for Pura, who added, "Also, ultimately I felt that I wanted to be on the East Coast because I have all three of my older siblings living in New York - so it would give me an opportunity to see them more than if I was on the West Coast."