Commitment Profile
Countdown: Claire Williams to Texas Tech
by James Hill, 1 November 2012
Claire Williams, a four-star recruit, will travel the 200 miles from San Angelo, Texas, to Lubbock and become a member of the Texas Tech Red Raiders women's tennis team next fall.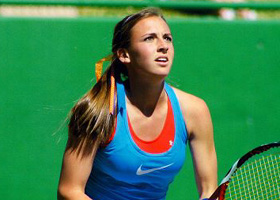 Claire, a 5-foot-6 right-hander, is ranked No. 150 nationally on the Babolat Class Rankings, No. 15 in the Gulf States, 12th in Texas, and holds an RPI ranking of No. 235.
"I chose Tech because of coach Todd Petty who really believes in me and my potential as a college tennis player," Claire said. "The camaraderie of the team is amazing. I love how they all are focused and work hard to get better every day. I had been in contact with many other coaches, but really had my eye on playing for Tech.
"The coaching staff is amazing. Coach Petty works one-on-one with the girls a lot and really develops a special relationship with each player. The player-coach relationship is extremely valuable to me."
Petty, also from San Angelo, was appointed head coach of the Red Raiders in April 2009. Since that time, Texas Tech has skyrocketed in NCAA Division I competition. The Red Raiders captured the regular-season Big 12 Conference title in 2012, and they advanced to the semifinals of the tournament at College Station, Texas. The eventual champion Texas Longhorns beat the Red Raiders in the semis.
That excellent showing propelled Texas Tech to its first-ever berth in the NCAA Tournament, held at Coral Gables, Fla. Utah edged the Red Raiders 4-3 in the opening round, and Texas Tech completed the season with a 19-6 record, along with a No. 22 national ranking. The previous year, Tech was ranked No. 48 nationally.
Claire, who turned eighteen on Oct. 12, played tennis for the San Angelo Central High School Bobcats during her freshman, sophomore, and junior years. She and her partner, Jared Johnson, advanced to the state Class 5A mixed doubles semifinals in 2011. The duo went on to capture third place at the high school championships.