Commitment Profile
Countdown: Rochin Stays In-State at Northern Arizona
by Rhiannon Potkey, 6 November 2012
Hailey Rochin's first experience at a national tournament didn't end well.
As a 12-year-old, Rochin lost in the first round of singles and doubles at the Copper Bowl in Arizona.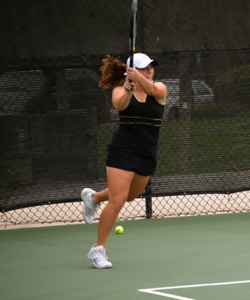 Rochin told her mother she would never be good enough to compete at that level.
But Rochin's mother said it was possible; she would just have to keep practicing.
Rochin is grateful she followed her mother's advice.
Not only was Rochin good enough to compete at the national level, she was good enough to earn a scholarship to play college tennis at Northern Arizona University.
"I never would have predicted it," Rochin said. "I guess having a strong support system really keeps you going. After that first Copper Bowl, I made the finals two years later and felt so happy."
Rochin, a four-star recruit from Tucson, Ariz., will be joining her older sister at NAU. Tatum Rochin is a junior on the team this season.
"It is like a cherry on top that my sister is there. It is just extra awesomeness," Hailey Rochin said. "She is my best friend and we have trained together for nine years. She is really happy to share the team with me for one season. I will be the lowly freshman so she can pick on me."
The Rochin sisters are prolonging a family tradition by attending NAU.
Their father, grandfather and grandmother all attended the university located in Flagstaff. Their grandfather is in the Hall of Fame for basketball.
"There is a lot of history with our family there," Rochin said. "It's become a generational thing now. My sister is in the dorms really close to where my grandma stayed."