College Feature
Miami Women Earn Trip to ITA Team Indoor
by
Colette Lewis
, 30 January 2013
University of Miami's head coach Paige Yaroshuk-Tews knows her team landed on the right side of a thin line Saturday, winning a tense and unpredictable dual match with Arizona State 4-3 to earn a trip to the ITA Team Indoor in Charlottesville, Virginia next month.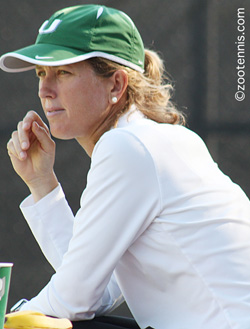 Two teams unaccustomed to playing indoors had perfect conditions outdoors at the
Neil Schiff Tennis Center
in Coral Gables, Florida for the final of the ITA Kick-off weekend, after ninth-ranked Miami had beaten No. 56
Hawaii
in the first round on Friday 7-0, and No. 35 Arizona State had downed No. 44
Oklahoma
5-2.
"It's what I've tried to preach to these kids, and I've probably preached a little obsessively," said Yaroshuk-Tews. "There's such a fine line between these teams, between a 4-3 up and a 4-3 down, and luckily we came out on top today. But there's a lot of things we need to improve upon."
Arizona State took the doubles point, which was played with no-ad scoring, earning wins at the No. 1 and No. 3 lines. Miami's Melissa Bolivar and Clementina Riobueno had taken their match at No. 2 over Ebony Panoho and Joanna Smith 8-4, while Leighann Sahagun and Desirae Krawcyzk of Arizona State held on for an 8-6 win over Kelsey Laurente and Brittany Dubins at No. 3. Laurente and Dubins trailed 6-0, but won six games in a row before Sahagun and Krawcyzk finally broke and held to put the spotlight on court one.
Sun Devils Jacqueline Cako and Nicole Smith secured the first point with a seesaw 8-6 victory over Lina Lileikite and Stephanie Wagner at No. 1, which saw four consecutive breaks of serve and a handful of deciding points before Cako served out the match.
If the Hurricanes were concerned about dropping the doubles point, they didn't show it at the start of singles play, taking four first sets, while Arizona State could post only two. If Miami could keep its lead in those four matches, they had the points they needed, but if the Sun Devils could earn a second set, things would, and did, get interesting.
Bolivar brought Miami even with a 6-2, 6-1 win over freshman Stephanie Vlad at No. 3, but Cako took the lead back for Arizona State with a 6-0, 7-5 victory over Lileikite at No. 1. Miami's Deborah Suarez, another freshman, made it 2-2 with a 6-2, 6-2 win over Joanna Smith at No. 6, and Laurente gave the Hurricanes their first lead by closing out a 6-2, 6-3 win over fellow freshman Krawcyzk at No. 2.