Who's Hot?
Prince Hot 100 List - March '13
by Amelia Thomas, 21 March 2013
Many people look at the start of Daylight Savings as the loss of an hour of sleep. But junior tennis players can weigh the benefits - more sunshine and warmer temperatures mean more tennis. Some high-performing players that take advantage appear in the Prince Hot 100.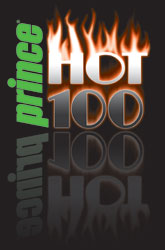 The Prince Hot 100 lists are published each month, and the March Hot 100 lists feature the one hundred boys and girls who most improved their ranking during the month of February. You can find out more about the Prince Hot 100 - and how the lists are calculated - by reading here.
The latest lists, published earlier this week, are now available:
We talked with a few players who appear on the lists...
Roundup
Jordyn Boothroyd (Irvine, Calif.)
Two-star freshman Jordyn Boothroyd has struggled with her nerves and mental game in the past. Those issues had prevented her from performing her best in matches. "Until recently, in tournaments when I would get nervous - I would lose focus and wasn't as consistent," Boothroyd said.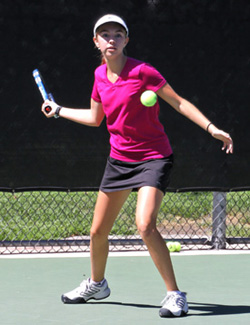 The Irvine native and her coach, Chuck Brymer of the
Tennis Club at Woodbridge
, have been putting a lot of effort into developing a more consistent game. Boothroyd is working on being more aggressive and coming up to the net as well as strengthening her serve.
Boothroyd also started setting goals for her game, which she believes has contributed to her recent success. "I started to have faith in how well I played, which helped me believe in myself," she said. "At the beginning of the year, I made a goal to become a three-star player. This motivated me and made me want to play at a higher level."
She now states that her strengths are her consistency and patience. "That is how I win my matches. I wait until the other person makes the mistake," Boothroyd said. "Some of my strengths are my forehand and my ability to neutralize the other person's ball by hitting it up out of their strike zone."
Boothroyd had a chance to demonstrate these strengths in the round of 16 of the Palm Valley Presidents' Day Open Championships. She faced two-star sophomore Isabel Lee, the second seed of the girls 16s division. "In the first set of the match, I was down 0-4 when I started to be more consistent by neutralizing her balls," Boothroyd said. She won, 6-7; 6-2; 10-6. "It was one of the greatest matches I have ever played."
Boothroyd went on to reach the semifinals of the Palm Valley Championships, as well as reaching the semifinals of the Temecula Valley Junior Tournament later in February. This performance helped Boothroyd jump over 150 spots on the Class Rankings List.
Boothroyd's positive experience with tennis has motivated her to contribute to the community. She volunteers with several organizations, including "No-Limitz Tennis," a clinic for Autistic and Special Needs children that promotes mental and physical activity through playing tennis.
Boothroyd's parents are continuously impressed by their daughter's success. "Jordyn is an amazing girl," her mother, Michelle Boothroyd, said. "Her dad and I are extremely proud of all her accomplishments."