Commitment Announcement
Spring Signing Week '13: Aidan Talcott Decides on Denver
by
Gary Curreri
, 19 April 2013
Aidan Talcott enjoys making short comedy videos as a hobby, but when it comes to tennis, he's very serious.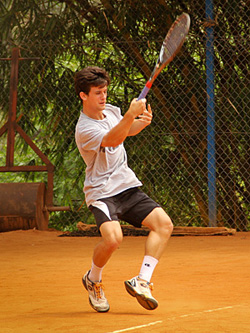 Talcott, 17, of Sea Cliff, New York, recently decided on the
University of Denver
as his college destination after weighing offers from several top schools.
"In my downtime I love to play piano and make short comedy videos," said Talcott, who is ranked 92nd nationally, number 5 in New York and 11th in Middle Atlantic. "It's a semi-productive hobby that I've been doing for awhile, and it's a good outlet for when I'm not on the tennis court."
Talcott decided on the University of Denver after visiting the campus in late March. The New York native also visited William and Mary, Wake Forest, and Louisville before Denver.
"I decided the day after I returned from my visit there," Talcott said. "I saw great potential in the team, and the academics are superb as well. The coaching staff is great, and it's a great environment to produce successful people both on and off the court. I liked all of them so much that it was a really close decision about where I would go."
Off the court, Talcott enjoys mastering the keyboard.
"I took piano lessons when I was very young, but I quit because I didn't want to learn the songs they were teaching me," Talcott said. "A few years after quitting, I decided to teach myself. This way I could learn any song I wanted to learn. Early on, when I took lessons, I did a few recitals, but nothing more than that."
Talcott said he comes up with some skits in his spare time and enjoys making videos out of them. His hobby of making videos came during his teenage years. He said people who know him know that he has comical side.
"It's mainly to bring a smile to someone's face and make their day," Talcott said. "I don't do videos of me playing piano, but I guess if the song I was playing was really bad that could turn into a comical piece."