Where Are They Now?
Don Johnson Brings Experience to Vstrator
by Marcia Frost, 13 May 2013
Donald Johnson turned a successful college tennis career at the University of North Carolina into a professional stint that brought him to the No. 1 doubles ranking in the world. After winning the Wimbledon Mixed Doubles with Kimberly Po (2000) and Men's Doubles with Jared Palmer (2001), he returned to Chapel Hill as the assistant coach for the men's tennis team.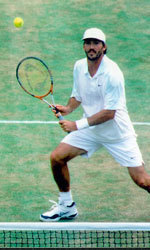 Johnson stayed at his alma mater for three seasons, earning the
ITA National Assistant Coach of the Year Award
in 2006. It was a charity event with Rob Autry, who played college tennis for Central Oklahoma, which would set up the next phase of his life.
"Rob and I became fast friends through a mutual friend, Bob Rauf," he explains. "With Bob we started the Jimmy V Rackets for Research event eight years ago."
"Our first reason for looking into video analysis was to find another way to raise money for cancer research. We thought we could charge our constituents for a video analysis session with proceeds going directly to cancer research, but we soon found the expense to offer this option was exceedingly high and the technology was extraordinarily difficult to figure out," continues Johnson.
The determined athletes didn't give up. "We delved deeper into the video analysis world," says Johnson, "and realized we could create our own technology that would allow for a positive keepsake or takeaway for all of our generous and charitable constituents. What we created is a free video analysis solution and an incredibly simple technology for anyone, anytime, anywhere, anything."
Autry, the company's co-founder and current CEO, had a friend at Microsoft build a prototype that he and Johnson showed to college coaches. Vstrator was founded in 2011. Johnson works on business development, sales and marketing.
The success of the site has been enormous. According to Don Johnson, it has over 125,000 members - and it's only been available to the public since November 2012.