Special Feature
In the SPC, It's Books Over Backhands
by
Ali Jones
, 5 June 2013
As teenage athletes across the country turn away from the traditional brick-and-mortar education to tack on more training hours, the Southwest Preparatory Conference (SPC) embraces its old-school ethic: academics before athletics.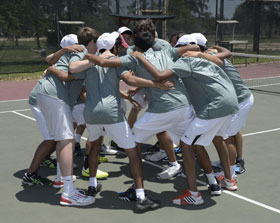 The SPC is the nation's largest geographical private school athletic conference, encompassing 19 schools in Texas and Oklahoma. Like the venerable
New England Preparatory School Athletic Council
, its members make no apologies for turning out more National Merit scholars than NCAA record-holders. But even the toughest academic schools in Texas and Oklahoma are still managing to attract elite players - a fact exemplified by the quality of play in the just-concluded SPC boys' tennis season.
The roster of SPC competitors this spring included:
Grant Solomon, a blue-chip recruit in the Tennis Recruiting Class of 2014 rankings, representing Greenhill School in Addison, Texas;
Xavier Gonzalez, a five-star recruit in the Class of 2014 (and a 2012 Bill Talbert Sportsmanship Award recipient), representing St. John's School in Houston, Texas;
Eric Rutledge, a five-star recruit in the Class of 2015, representing All Saints Episcopal School in Fort Worth, Texas;
Jake Berber, a five-star recruit in the Class of 2016, representing St. Stephen's Episcopal School in Austin, Texas;
David Warren (formerly David Weiner), a onetime blue-chip recruit in the Class of 2013, joined by his brother, Daniel, a former 2014 blue-chip recruit, representing The Kinkaid School in Houston, Texas.
In the SPC championships in Houston on May 3-4, the coveted annual conference title went to Solomon's Greenhill team. In the title match, the Hornets defeated the Kinkaid School squad led by the Warren brothers.
It was the third SPC title in four years for Greenhill, coached by veteran teaching professional Tim Barnard and former Georgia Tech tennis standout and current Greenhill history teacher Scott Cotton.
At Greenhill, in the Dallas suburb of Addison, Barnard and Cotton have put together a close-knit team of thirteen scholar-athletes, with skill levels ranging from International Tennis Federation junior circuit competitors to high school-only players. From February until early May, for about two hours every afternoon, the Greenhill players set aside their backpacks full of books and hit the courts to play dual matches or practice for the SPC end-of-season showdown.