Championship Week
Brian Cernoch Wins USTA Boys 14 Nationals
by James Hill, 14 August 2013
Brian Cernoch of North Bethesda, Md., lost only one set on his way to capturing the USTA Boys 14 National Championships singles title at McFarlin Tennis Center.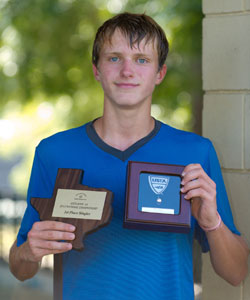 Boys 14 Champion
Brian Cernoch
© Lester Rosebrock, Boys' 14 Nationals
But Cernoch, the tournament's 15th-seeded player, dropped his first set of the seven-day event at a critical time - in the championship match with No. 2
Maxwell Mendelsohn
of Little Rock.
Still, Cernoch, ranked No. 8 on the Athletic DNA Class Rankings List, won his first USTA gold ball with a 4-6, 6-1, 6-4 victory after a 2-hour, 22-minute battle.
"In the first set, I was really nervous because it was my first final," Cernoch said. "I was missing a lot of shots. I just wanted to win so badly, and I didn't want to let this opportunity go. So, I fought as hard as I could in the second set, and I made as many volleys as I could."
Cernoch utilized snappy forehand shots from the baseline, forceful overhead volleys, and "two-fisted whipper" backhands to take the second stanza. He broke Mendelsohn's serve three times in the set, as the match went into the final chapter.
Mendelsohn, who recorded a semifinals performance at the USTA Clay Courts last month at Fort Lauderdale, Fla., was not about to roll over. After Mendelsohn's service was broken in the first game, the two baseline warriors each held their respective serves with Cernoch leading 4-3. Mendelsohn, with his sweeping, round-house forehand, executed a solid return of serve to break Cernoch and even the set at 4-all.
But Cernoch countered with a break of his own, and he finished off the match in stellar fashion.
Cernoch, who trains at
Junior Champions Tennis Center
at College Park, Md. (with pro Brandyn Fisher), defeated 11th-seeded
Alafia Ayeni
(San Diego) in the quarterfinals and No. 5
Kyrylo Tsygura
(North Potomac, Md.) in the semifinals. Tsyygura also was a Clay Courts semifinalist. He spoiled Clay Courts champion
Noah Makarome
's (Wesley Chapel, Fla.) bid for two consecutive national titles with an upset win over the top-seeded player in the quarterfinals.
Mendelsohn receives his training in two states: in Little Rock at the Pleasant Valley Country Club, and at the Atlanta-area Baskin-McGill Tennis Academy. He was accompanied to San Antonio by legendary coach Jerry Baskin, who played a large role in Mendelsohn's getting through difficult times.