Tournament Summary
Midwest Reigns on Home Court at USTA National Boys' 18 Team Championship
by Marcia Frost, 6 August 2013
Unseasonably cool temperatures for July at the University of Illinois Urbana-Champaign translated into perfect tennis conditions for the Midwest team to take the title at the USTA National Boys' 18 Team Championships.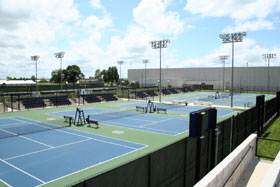 After years of 90 to 100 plus degree days at the tournament nearly every year, players had a chance to show a lot more than their hydration ability during days in the 75-80 degree range. The only thing that didn't hold up well - beyond the top spot - was the seeding.
Top seeded Midwest, who had lost in the finals to Texas last year, had a fairly easy trip to the finals with their biggest challenge in the semis when their 4-3 win over No. 4 Northern California included four singles matches that went the distance. Despite the loss, the Northern California team went on to top Southern California (5-8) in the third place playoff.
It was quite different for second seeded Florida. They started with an unexpected push from unseeded Mid-Atlantic before a 4-3 win and then dropped the next round to Southern (5-8), 5-2. The boys from the south would keep the momentum going, topping Southern California 4-3 on their way into the finals.
The weather wasn't quite so cooperative for the final day. The doubles were played under cloudy skies, with a slight chill in the air for the early morning.
That doubles match between Midwest and Southern was not exactly a preview of what was to come. The first match to finish was on No. 3, where Christopher Eubanks and Robert Kelly of Southern almost fell, going from a 4-0 lead to a 6-6 tie. They pulled it together long enough to get an 8-6 win over Konrad Zieba and Felix Corwin.
At No. 1 doubles, it was the Midwest team of Jack Murray and Ronnie Schneider who had trouble sealing the deal before taking it 8-6 over Hampton Drake and Andrew Schafer. Their teammates on the middle court did not have quite so much luck.
Midwest's Aron Hiltzik and Thomas Fawcett had multiple opportunities to take the match over Korey Lovett and Trey Yates, but ended up falling in an 8/6 breaker to put the Southern team on the board with the doubles point.