Commitment Announcement
Countdown: Hampton Drake Enters the Tiger Den
by Todd Holcomb, 14 October 2013
Just a few years ago, it didn't seem possible that Hampton Drake could wind up at Clemson.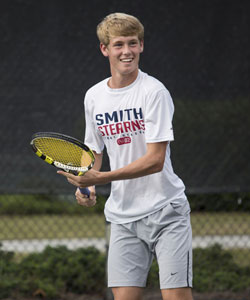 For one, Drake wasn't ranked in the top 100 nationally, meaning he'd need a little luck to catch the attention of an ACC program. For two, he was raised in Columbia, S.C., as a
South Carolina Gamecocks
fan.
But today, Drake is ranked No. 22 among high school seniors - a jump of nearly 100 spots since he was a freshman - and he's ready to sign next month with the Tigers. He also visited Notre Dame, Northwestern, Wake Forest and William & Mary.
"What really caught my interest in Clemson was not only the team and the school, but the whole town of Clemson that surrounds it," Drake said. "Everybody is real supportive. There's a lot of unity in the town that makes Clemson pretty unique."
Drake already knows some of Clemson's players pretty well. He grew up hitting with Brent Lett around Columbia, and he trained in Hilton Head with Christian Harris, who encouraged Drake to consider Clemson.
As for his childhood favorite, South Carolina: "I sort of wanted to get away from where I grew up and experience something new," Drake said.
Drake has never been afraid of that. The turning point in his junior career came before his sophomore year when he moved from Columbia to Hilton Head Island, S.C.. He trains at the Smith Stearns Tennis Academy. B.J. Stearns is his primary coach.
Drake's brother, Charles, had gone to Hilton Head when he was in the eighth grade. Charles is now a freshman tennis player at Stevens Institute of Technology in New Jersey.
"My parents asked me if I wanted to take my game to another level, and I did," Drake said.