Commitment Announcement
Georgia Commit Walker Duncan Has Always Bled Black and Red
by Rick Limpert, 17 September 2013
Like many kids that grow up in Atlanta, Walker Duncan has always been a big University of Georgia fan.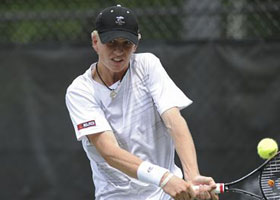 Being one of the top junior tennis players in the land and only entering his junior year, time was on Walker's side when it came to making a college decision. Duncan talked and exchanged emails with tennis coaches from all over the country, but he wasted no time in giving a verbal commitment earlier this month to Manny Diaz and the men's tennis program at the
University of Georgia
.
"UGA has always been my dream school," admitted Duncan. "I've always loved their campus, their tennis facility, and even the red and black colors."
Duncan will have family right across campus. His brother is attending law school at UGA.
It turns out, his brother, Sawyer was the main reason Walker picked up a tennis racket.
"My brother played in college at Furman," explained Duncan." "I grew up riding in the back seat of my mother's Lincoln Navigator - driving around to all the tournaments he was playing; so I started playing."
Duncan said he played various other sports until the age of 10, but since then it's been tennis.
Duncan has worked for years with former ATP pro Grant Stafford and the rest of the staff at Life Time Tennis in Norcross, Georgia (formerly Racquet Club of the South). That staff now includes a coach who brings a weath of experience coaching professional players in Brian DeVilliers.
Duncan said he did his best to become a sponge and soak up knowledge from all his coaches.
"Grant was an excellent player and had big wins over top players. He's worked with me on the mental game and made me train like a professional."
Duncan appreciated any advice he'd receive from his superiors, and he was glad they gave him the tools to go play big time tennis in Athens.
One person that did keep reminding Duncan about the University of Georgia is current Bulldog player, Austin Smith, and it apparently paid off.