Commitment Announcement
Countdown: Gabrielle Smith Fights On
by Keith Kropp, 19 October 2013
As a longtime resident of Henderson, Nev., Gabby Smith feels fortunate she can make the four-hour drive to play a lot of her junior tennis tournaments in the USTA's highly-competitive Southern California Section. Familiarity with the greater Los Angeles area should come in handy when the talented 17-year-old begins her collegiate career at the University of Southern California next fall.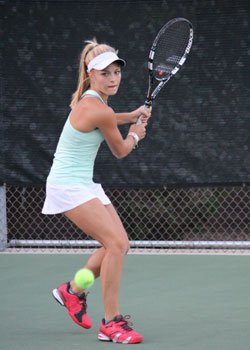 The blue-chip recruit, rated No. 9 on Tennisrecruiting.net's Girls Class Rankings List for high school seniors, made her verbal commitment to the Trojans in June.
"The majority of my junior tennis is played in Southern California... the regionals and National Opens," Smith said. "I play all of them. It's only four hours from home. It is super convenient.
"Plus, I was born in Long Beach. It's like I am playing in my hometown."
Smith will also walk on to the USC campus and should find a high comfort level. One of the Trojans' other incoming freshmen, Madison Westby of Tulsa, Okla., is one of Smith's closest friends. Smith is also friends with current USC sophomore Zoe Katz.
That Smith will be joining good friends at USC is a bonus. The Coronado High School senior, who also considered BYU, Vanderbilt and Alabama, has actually had the Pacific-12 Conference school on her radar for several years.
"For me (USC) has always been a dream school to go to," Smith said. "When they finally offered me a scholarship my reaction was 'This is a dream come true.'"
Smith knows she will also be joining a program that attracts top players and competes for conference and national championships every year.
"I'm really excited," she said. "USC has always been one of the top tennis schools. I like the team and the coaches a lot."