Commitment Announcement
Fall Signing Week '13: Kallenberg Headed to Harvard
by
Gary Curreri
, 13 November 2013
Nikki Kallenberg has been playing tennis since the age of 5, when her mother, Reka Monoki, a former professional tennis player, brought her out to a local park and started feeding her tennis balls.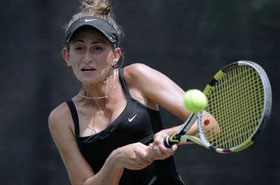 "I started out playing two to three times a week and immediately fell in love with the sport," said the 17-year-old Kallenberg. "Tennis is like any other challenge one would face in their life. The more work you put in, the better your results will be."
That hard work has paid off for the Naples, Florida teenager, who recently gave her verbal commitment to attend Harvard University next year. Kallenberg said she decided on Harvard immediately after her visit.
"Academics has always been extremely important to me," Kallenberg said. "From the beginning of my recruiting process, I was already considering going to an Ivy League school. When I visited Harvard, there was an immediate connection with the team, coaches, campus, and overall atmosphere. Harvard is the perfect fit for me to advance my academics and athletics."
There won't be much of a cold weather adjustment needed for Kallenberg, who is originally from Staten Island, New York. Her game might need some minor tweaking, however.
"As a kid, I remember it being really cold," said Kallenberg, who moved to Florida in 2005 so she could advance her tennis career. "I will definitely have to adapt to playing indoors on a fast surface! Thankfully, my game is suited for that kind of play."
Kallenberg's top college choices included Harvard, Yale, Princeton, Vanderbilt, William & Mary, and Berkeley. In addition to Harvard, she also visited Yale and Princeton.
"They all offered great programs and had their own positive attributes, but when it all came together, Harvard best suited me," said Kallenberg, who plans to study medicine. "My strengths are in science and math. Tennis did not play a role in that decision (to attend Harvard), but has rather taught me to be disciplined and to do the best in anything I set my sights on.
"I'm very excited to become a part of Harvard's tennis program and to contribute towards Harvard becoming a real contender against top national teams," Kallenberg added. "Organization and time management will be essential during my time at Harvard. Playing tennis and keeping up with my academics will be challenging, but I'm confident I can adjust to the difficult schedule."