Commitment Profile
Fall Signing Week '13: Catanzariti Heads South to College Station
by
Colette Lewis
, 14 November 2013
Blue Chip A.J. Catanzariti made his official visit to Texas A&M during one of the biggest football games of the year - with the Aggies and 2012 Heisman winner Johnny Manziel hosting the national champion Alabama Crimson Tide. But by that time, the 18-year-old from Pittsburgh had already decided Texas A&M was the right choice for his path to professional tennis.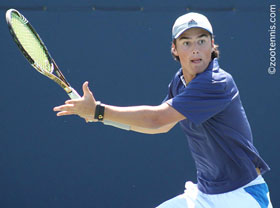 "It was pretty much a done deal before my visit, but it was really fun," recalls Catanzariti, who trains at the
Junior Tennis Champions Center
in College Park, Md. "The hype going into the game was unreal. Even back in DC, it was all over the news, and then to go there, it was unbelievable. But then once the game started, it kind of died down to a regular game."
Another football powerhouse was on Catanzariti's short list, but the Aggies won out over Ohio State.
"Ty Tucker (Ohio State's head coach) is amazing, but I really like A&M's combination of Steve Denton and Bob McKinley," says Catanzariti, currently 25th in the Class of 2014 rankings. "I really think they can help me improve my game and do what I need to do.
"I think physically, I'm doing great, but what they can help me with is the mental part of my game. Sometimes I get a little wild on the court, and I think they can bring me back in and do it on a regular basis, so I can start being more disciplined."
After his freshman year, Catanzariti left Pittsburgh to train in College Park, signaling a change in his approach to the sport.
"AJ wants a chance to play pro tennis," says Frank Salazar, Senior Director of High Performance at the JTCC. "He made that commitment when he came down to the tennis center. He's a good athlete and he always tries hard, though he's matured over the years.
"Now he understands it takes time to get good at anything, so he's been able to take his wins and losses in stride and just focus on getting better."
Several factors lead to Catanzariti's decision to leave Pittsburgh, where he trained at Fox Chapel Golf Club with Craig Perry and Mischa Kouznetsov, who is now coaching at the JTCC, as well as junior development coach Mark Phillips.
"Just getting where I needed to go in Pittsburgh was a half-hour drive here, a half-hour drive there, and that was very rough on my mother and me," says Catanzariti, who began playing tennis at the same time as his older sister Gabrielle, a member of the University of Pittsburgh team from 2009 through 2013.
"And there was really nobody to hit with anymore. Bjorn (Fratangelo) was gone, Casey Watt was in college, Chris Mengel went to college, even Ronit (Yurovsky) went to college, so it was just me and the coach."
Already opting for online schooling for his freshman year in Pittsburgh, Catanzariti made the move to College Park where he continued his studies with Laurel Springs School.