Commitment Profile
Fall Signing Week '13: Thai Thompson to College of Charleston
by
Ali Jones
, 16 November 2013
During her freshman year, Thai Thompson joined her high school tennis team just so she could keep fit for soccer, her primary sport.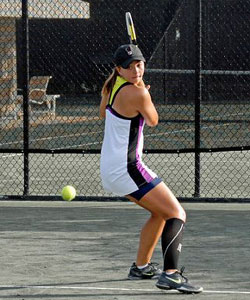 "I like that it was sort of like a team, but not a team as in soccer," she explained. "You only rely on yourself to get through the match. Your ability, hard work and dedication to the sport will help you to win, but also I like that I have teammates cheering me on when I got a point, and they tell me to keep going, keep pushing."
Two weeks after joining in, she was hooked. Soccer became a distant memory, and four years into tennis, the righty has made a verbal commitment to play for the College of Charleston.
During her college search, she emailed Coach Angelo Anastopoulo and explained to him that she was a late bloomer, but that her upward swing in the rankings is proof of her potential.
"I pretty much told him how I'd started with not much at all," she said, "how I've only been playing four years and how I had been able to get a very high ranking."
Thompson, who graduated in Spring 2013 from Florida Virtual Academy with a 4.0 GPA, initially planned to take a gap year to focus exclusively on tennis. She has, however, decided to cut that short and join CofC in early 2014.
She plans to pursue a sports-related major in the College's Department of Health and Human Performance, in an area such as exercise science.
"They said they would love to have me join in January," she said. "I thought that was a great idea. One, I would be able to help out the team, and two, I'd be hitting with the girls and competing, and that would definitely help me improve."
"Improve" has been the Thompson mantra ever since she was introduced to tennis.
She's fiercely competitive but takes her losses in stride. She remains positive, upbeat and unflappable. But she also spends countless hours on the courts mastering the rudiments of the game.
Battling gale-force winds and 35-degree weather in her hometown of Wilmington, North Carolina, Thompson would still be out on the courts. Her coaches could only shake their heads in disbelief.