Commitment Profile
Aron Hiltzik Will Join His Brother on Illini Team
by Marcia Frost, 9 December 2013
Five star recruit Aron Hiltzik officially signed his National Letter of Intent with Illinois Coach Brad Dancer. While the news that he's joining brother Jared on the team isn't overly surprising to many, 17 year old Hiltzik put a lot of thought into the decision.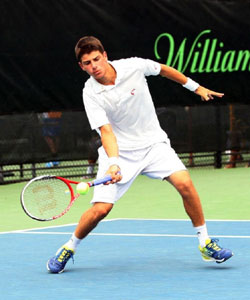 "I didn't think I was going to go to the same school with my brother when he committed, but I very quickly became an Illini fan when I took my first unofficial visit," he admitted. "The whole team was very welcoming and he showed me around the campus."
The Wilmette, Illinois, native is ranked in the top 20 of the 2014 senior class according to the Athletic DNA rankings. In 2012, Hiltzik was a finalist at the Easter Bowl. This year he helped the Midwest Team take the championship at the USTA Boys 18 Team Championships in July and also picked up a trophy of his own at the 2013 Midwest Closed Boys' 18 Championships.
Hiltzik is currently training at the Junior Tennis Championship Center in College Park, Maryland, with Frank Salazar. His longtime coach is actually Billy Heiser, who played for the Illini. Hiltzik credits Heiser with playing "a major role in my development." (Heiser is now spending most of his time traveling with ATP player Tim Smyczek.)
Despite all the Illini connections he has, Aron Hiltzik did not take the decision of attending the University of Illinois lightly. "I took a visit to Georgia," he says, "and I was also considering Florida and UCLA."
"I really enjoyed my visit to Georgia, and Manny Diaz and Will Glenn are great coaches. It was a tough decision for me, but I know I made the right choice, and I am closer to home so my family can watch me play."
Hiltzik also admits that he had paid close attention to Jared's time on the team, "My brother's experience at Illinois played a large factor in my decision. I saw how quickly he improved and how highly he spoke of the team and coaching staff. He really wanted me to be on the team with him, and he is a great role model to be around."
In the end, the younger Hiltzik had an even bigger reason to join the Fighting Illini than his sibling.
"My largest factor was which school could give me the best chance of becoming a professional tennis player. Illinois has produced many pros in the past years, including Kevin Anderson, Rajeev Ram, Amer Delic, and Ryler DeHeart."