by Benjamin Belletto, Linfield Men's Tennis, 11 December 2013
Dear Prospective Student-Athlete,
The process of searching for the right college and the right tennis program can be stressful. There are so many choices and variables, and finding the right fit, making campus visits, filling out applications, and taking care of your academics and tennis can be overwhelming. Enjoy the process.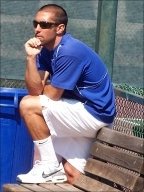 There are a few times in your life where one decision will change the course of your future. This is one of those times. Don't let the weight of this decision overwhelm you. This is a beautiful process, and one that, years down the line, you will look back on with fondness. You will look back to this point in your life and recall a time when your life could have gone in so many different directions, and you'll appreciate the choices that you have made that led you to where you are.
Most of the time.
Occasionally, I see student-athletes with their minds made up before the process begins, which leads them to overlook some red flags, or not consider places that might be a better fit. As a coach, it is not my place to intervene when you have your mind made up. I can only represent myself, my institution, and my program as honestly as I can, hoping to get to know you as well as possible. Simply stated, it is difficult to watch you make the wrong choice, but it is your choice. Be thorough and honest with yourself, and don't let anyone pressure you to make a decision with which you are not comfortable. It is your decision, and your life.
As a coach, the recruiting process is something wonderful. It is an opportunity to get to know prospective student-athletes. Some will play for me, but many others will end up playing for other programs. That's just the nature of the process, and it isn't a bad thing. As a coach, I am looking for players that fit with our program and our school. Those players are the ones that thrive. If the fit isn't right, I would rather have that student-athlete end up somewhere they can thrive. College tennis is a close-knit community, and often, I find myself coaching against someone that I recruited, and I love that. The more people that you know in this world, the smaller the world becomes. As a result, make sure that you represent yourself with respect and integrity throughout the recruiting process. In the real world, your word and how you carry yourself will take you much further than what you know. Every interaction is an opportunity to leave a positive impression, and an opportunity of which you should take advantage. In conversation with other coaches, I am always astounded by the amount of communications that coaches send that receive no response. Whether through email or phone, as a coach I do my absolute best to respond to each prospective student-athlete, regardless of ability level. I believe that the least I can do is be straight forward, respectful, and honest. You may not want to respond because you are not interested. I understand how awkward that might be, but we coaches are tough and can handle rejection. We always appreciate those who are up front throughout the process. In doing so, you've created another member of your cheering section. In life, you can never have too many people supporting you, and you never know when you'll need the support. Additionally, you may also learn something about a school you might not be considering. There are so many colleges, and it only does a disservice to you to limit the schools that you consider.
I wish you the best in your college search. The process can be stressful, but will ultimately be one of the best decisions you will ever make. This choice will lead to lifelong friends and experiences, and will propel you into the next phase of your life. As a coach, the single greatest component of my job is the relationships that I develop with players, alumni, prospective student-athletes, coaches, and opponents. Enjoy the process, be honest with yourself and find the right fit. Above all, represent yourself with integrity and dignity.
Sincerely,
Ben Belletto
Benjamin Belletto is Head Coach of Men's Tennis at Linfield College.
About Wilson
Wilson Tennis is proud to sponsor the Recruiting 101 series of articles at TennisRecruiting.net.
Connect with Wilson on Facebook, Twitter, Instagram, and YouTube - or on their website.
Leave a Comment
More Recruiting 101 Articles
8-Jul-2019
Recruiting Terms and Calendar for 2019-20
Knowing the important dates and terms is a crucial part of the recruiting process. If you need a quick guide to help navigate the path to college, we've got you covered with our recruiting calendar. There are some key date changes at the Division I level this year.
19-Jun-2019
Want To Get Recruited? Fill Out Your Free TRN Profile
More than 2,000 college coaches research recruits through the Tennis Recruiting Network database. But they need help. They need more players to fill out their recruiting profiles thoroughly and provide updated contact information. Find out how to make it easier to get recruited for free.
12-Jun-2019
From No Interest To An Offer, Parks Is A Combine Success Story
Lane Parks arrived at the All-American College Combine in 2017 without any ranking or recruiting rating. He left with interest from three college coaches, including Paul Brower at Nichols College. Parks just completed his freshman season for the Division III program.