Commitment Announcement
Countdown: Lamar Remy Commits to Wisconsin
by Sonny Dearth, 18 March 2014
Special from the
Newport News (Va.) Daily Press, HRVarsity.com
For Lamar Remy, it's time for a cool change.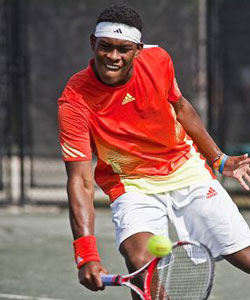 After spending about five years training and occasionally basking in the warmth of Bradenton, Fla., the 3-Star prospect has elected to play tennis for the
University of Wisconsin
.
Remy, from Roslyn, N.Y., says he has benefited from IMG Academy training in Bradenton.
"I've been here since 2009, and I've been practicing with national and international players ever since I've been here," he says. "It's kind of like a college environment."
Despite the chillier climate of Madison, Wis., Remy says his decision to become a Badger next season wasn't too difficult. He already knew current Wisconsin freshman starter Elliott Sprecher from their IMG days together.
"When I took my official visit back in November, I just felt like it was pretty good," he says. "I got to hang out with the team a little bit.
"After the coaches gave me a tour of the facilities, I felt they were almost identical to the ones I have here at IMG."
Remy believes one of his traits will help early in his college career.
"I'm very independent, living with a roommate here," he says. "I've learned to become more disciplined as well."
His roommate is an excellent player, too - 3-Star William Bushamuka, who has committed to compete for Kentucky.
Remy is used to playing tennis several hours per day, studying and working on his fitness, so a college grind might even be easier than IMG for him.
"It's a pretty tough schedule; it really helped me transition to the college level," he says of IMG Academy, which began as the Nick Bollettieri Tennis Academy.