Commitment Announcement
Countdown: Dunn Decides on the Tide
by Blair Henley, 19 March 2014
Bennett Dunn first picked up a tennis racquet at the age of 8; not because she saw a match on TV or because her friends were playing, but because her father, Matt, wanted a hitting partner. Two years later she was beating him. Another two years and the Dunn family had packed up and headed from their home in Orlando to South Florida where Bennett enrolled in Nick Saviano's prestigious tennis academy.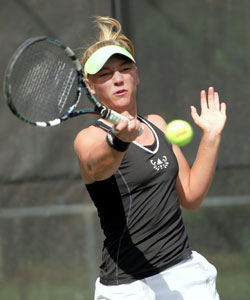 Perhaps it's not surprising that one of Dunn's greatest strengths on the court is her speed. Even after getting a late start in the game, by Florida standards anyway, she powered through her junior tennis career, playing a mix of both ITF and USTA tournaments while finishing her high school education online.
Her journey to a college scholarship was similarly fast-paced. The Blue Chip recruit committed to Alabama over a year ago, all without attending a single official visit. Dunn visited Tennessee after the 2012 USTA National Clay Courts in Memphis. On an ITF tournament road trip to Georgia, Bennett and her Dad visited the Georgia Tech and Georgia campuses.
Bennett and her mother, Pam, flew to Alabama specifically to see the Tuscaloosa campus. Pam Dunn would later admit that she thought that the visit would serve to possibly help Bennett cross the school off her list. Little did she know that her daughter would fall in love with everything about the school, from the coaches to the football to, of course, the team.
"They've been really welcoming," she said of her future teammates. "At some of the other schools there were cliques among the team, and that might not lead to great results. If they aren't really good friends, it's not going to work. Alabama's team is really cohesive."
For now, Dunn is home in South Florida where she spent the last few years training with Harold Solomon at his Ft. Lauderdale Academy. A former world No. 5 known for his grinder mentality, Solomon has taught Dunn to recognize and seize opportunities on the court rather than relying on her foot speed to save the day.