Who's Hot?
Prince Hot 100 List - April '14
by Amelia Thomas, 22 April 2014
Spring fever is brewing, and junior players are turning up the heat to match the rising spring temperatures. We recognize some of the top performances in this month's Prince Hot 100 Lists.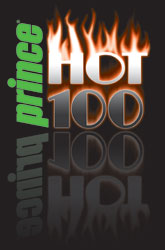 The Prince Hot 100 lists are published each month, and the April Hot 100 lists feature the one hundred boys and girls who most improved their rankings during the month of March. You can find out more about the Prince Hot 100 - and how the lists are calculated - by reading here.
The latest lists, published last week, are available here:
Let's take a look at a few of these players...
Roundup
Chad Kissell (Hostetter, Penn.)
Four-star junior Chad Kissell is not alone when it comes to tennis. All three of his sisters, Stacia and Joelle Kissell and Michaela Eddins are Division I athletes. In addition, his mother, Kim Kissell, is a full time tennis professional and coach at Seton Hill University.
"I'd have to credit my good play recently to my mom," Chad Kissell said. "She's pretty busy as it is, and to put in a couple extra hours a day to help me train and get better - I am so grateful and appreciate it a lot."
Kim Kissell, however, gives full credit to her son's work ethic. "His hard work and effort on the court is the main reason," she said. "It always seems that when we are training, he never wants to stop and can always go longer and longer. If he's not happy or wants to improve his strokes, he will continuously work on it until he feels it is not a weakness anymore for him."
What distinguishes Chad Kissell from others is that he plays other sports - not just for fun like many players, but for the benefits they give his tennis game. He says playing golf at a competitive level helps with the mental aspects of his game, and playing basketball helps with his physical fitness.
The six-foot-one right-hander describes his game as aggressive. "I'm usually not the one playing defensively during a match," he said. "My biggest strength I would have to say is my serve. It's always nice to be able to rely on my serve if I need a big hold in a close match."
All these factors came together for Kissell last month. He competed in two tournaments, winning the playoffs of the L4 Sectional at the Atlantic Club and winning a title at the Birchwood Classic SR L5. His performance earned him an 8-1 record for March.
Kissell named his best win of the month as his final match in the L4 Sectional. He faced five-star junior Ryan Dickerson in the playoff finals, competing for third and fourth place. "Our match was one of my favorites because both of us were cracking the ball harder than ever," Kissell said.
The whole match was close until Kissell was down 4-5 and 40 love. He then rallied up five points in a row. "From there on, the momentum was on my side and I ended up winning 7-5, 6-0. Ryan was one of the best players I've ever played before!"
Kim Kissell believes this competitiveness will carry her son far. "There is nothing he hates more than losing, and if he does lose, it's just motivation for him to get better," she said.