Special from
WAM Sports
As a competitive junior tennis player, summer holidays provide you the best chance to improve your tennis game and get maximum exposure for a college scholarship. College coaches are out recruiting at various tournaments and training camps around the U.S. and internationally. Taking advantage of these few months can really make an impact in your future college tennis career. It starts with creating a well thought-out summer tennis schedule.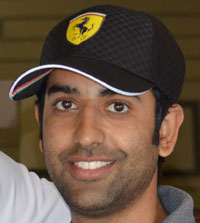 Tarek Merchant of
WAM Sports
talks about the benefits of a solid summer schedule
Before you start any kind of planning, you need to ask the single most important question:
How does a college coach determine if he or she would like to pursue you as a potential recruit for their school?
There are a number of factors, but the three most important ones are:
Academic Standing
Tennis Results
Character & Leadership
Let's explore these areas in detail.
Academic Standing
I know what most of you are thinking, why are we talking about academics when building a summer schedule? Summer = Summer Vacation, which means no school!
Yes, for you high school students who spend most of the year going through the daily grind of classes, homework, tests and the dreaded final exams, you finally have a few months to let loose and relieve some of that stress. I get it! However, don't get too comfortable and forget about keeping your mind active. It's important to read books, practice math problems and get familiar with some of the subjects you will be studying in the fall. A few hours a week of studying will still give you plenty of time to focus on your tennis game and put in at least twenty hours a week on court. Why is this so important? Well, a college tennis scholarship has the word "college" in it for a reason. If you don't have the grades, you can forget about college tennis.
Maybe in your mind tennis is first, but in a college's mind, it is second to getting admitted based on your grades. I see more and more tennis players each year who are extremely talented but are unable to get the scholarship they want because they don't have the grades to be admitted to that college. Don't fall into that trap!
Now, if you are a student that doesn't have a 3.0 or higher GPA, I'm sorry to say but school doesn't stop for you, you need to include a summer class to your schedule to help boost your GPA. You may say, "I will just try harder next year", but it just doesn't work like that. Don't allow yourself to fall behind. You will find yourself under a lot of pressure and stress, and that will adversely affect your tennis game.
Here is what a college coach says about academics:
If you don't have the grades to get admitted to my college, I am unable to recruit you.
- Sunshine State Conference Women's Coach
Tennis Results
College coaches determine your level by seeing your tournament results and how you compete in a training environment. It is as simple as registering for tournaments each month and playing in some camps that will provide you with the opportunity to train with college coaches.
Signing up for tournaments is going to allow college coaches to see how you match up against your competition. Results are important, but actively playing on a regular basis will show coaches you are serious and dedicated to improving your game, even if the outcome is not always a win. In addition, College Tennis Prep Camps are a great opportunity for players ages 14-18 to train with top U.S. college coaches, discover best-fit colleges and prepare your game for college tennis. Unfortunately, most college coaches don't have a budget to visit individual players, so here is a chance for you to see a group of them and for them to see you! Furthermore, the group of college coaches will evaluate you and share the secrets to getting recruited and earning a scholarship. Who better to learn it from than the college coaches themselves? After all, they are the ones recruiting you!
Here is what a college coach says about Tennis Results:
Summer is what makes or breaks a player. You have got to play two-to-three tournaments a month and dedicate your time so we can track your results. We also like to attend camps where we get an opportunity to work with you on and off the court, see you play and get to know you.
- Sunshine State Conference Women's Coach
Character & Leadership
In my opinion, this is the most underrated of the three factors. Isn't a tennis scholarship all about your ranking and grades? You may be the smartest kid in your class and the No. 1 junior tennis player in the world, but if your attitude stinks I guarantee no college coach will want you on their team! Tennis becomes a team sport in college and there is no "I" in team.
College coaches watch very closely how you present yourself. They watch what your body language is like when you are winning or losing a match, and much more. They will notice if you are one of those players that throws her racket, screams at his opponent, or doesn't take losses well; it is important to have a good attitude and be respectful of others.
There are many ways to do this, but my favorite is community service work. Volunteer at a hospital, your local church, an old age home, a soup kitchen, and take the time to help those in need. You will be doing a good deed and it should make you feel good about yourself. Your peers will look at you as a respectable citizen of the community. I would think this new leadership role might make you think twice before you step onto the tennis court and risk embarrassing yourself.
Here is what a college coach says about Character & Leadership:
I always like when players take that initiative to be involved in the community. Positive attitude and leadership is so important on and off the court. I like to see how you handle tough situations and face adversity.
- Sunshine State Conference Women's Coach
Now that we have covered what needs to be done, let's put this plan into action and create our winning summer schedule!
Get a hold of an electronic or paper summer calendar. Mark off all the days you are unavailable to study, play tennis and volunteer your time. This includes vacation, activities, family functions, etc.
From the time you have remaining, create a weekly schedule that includes:

5-7 hour of academic studying
20-30 hours of tennis (including on/off court training & tournaments/camps)
3-5 hour of volunteer work

This makes for a total of 28-40 hours per week.
The secret to your success is easy. Create a schedule, stick to it and results will come! This formula helped me earn my college tennis scholarship, and now it can help you!
If you would like to send me your comments, questions or success stories, please reach me at [email protected] or follow me on twitter at @merchofsports.
About Wilson
Wilson Tennis is proud to sponsor the Recruiting 101 series of articles at TennisRecruiting.net.
Connect with Wilson on Facebook, Twitter, Instagram, and YouTube - or on their website.
Leave a Comment
More Recruiting 101 Articles
8-Jul-2019
Recruiting Terms and Calendar for 2019-20
Knowing the important dates and terms is a crucial part of the recruiting process. If you need a quick guide to help navigate the path to college, we've got you covered with our recruiting calendar. There are some key date changes at the Division I level this year.
19-Jun-2019
Want To Get Recruited? Fill Out Your Free TRN Profile
More than 2,000 college coaches research recruits through the Tennis Recruiting Network database. But they need help. They need more players to fill out their recruiting profiles thoroughly and provide updated contact information. Find out how to make it easier to get recruited for free.
12-Jun-2019
From No Interest To An Offer, Parks Is A Combine Success Story
Lane Parks arrived at the All-American College Combine in 2017 without any ranking or recruiting rating. He left with interest from three college coaches, including Paul Brower at Nichols College. Parks just completed his freshman season for the Division III program.