Clay Court Championship Week
Stewart's Streak Continues in Girls 18s Clays
by
Colette Lewis
, 25 July 2014
When Katerina Stewart lost to Grace Min in the quarterfinals of a $25,000 Pro Circuit tournament in Florida back in March, she couldn't have known she would go the next four months without losing a match, and only one set. When Stewart defeated Kennedy Shaffer 6-1, 6-3 in the final of the Girls 18s Clay Courts at the Racquet Club of Memphis last week, she not only collected a first singles gold ball on her favorite surface, but also extended her winning streak to 34 matches in professional and junior competition.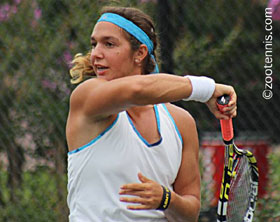 Seeded fifth, the reigning
16s USTA National Hard Court
champion started the tournament with two 6-0, 6-0 victories, but had what she called a "rude awakening" in a 7-6(3), 7-5 third round win over
Emma Davis
, a No. 17 seed.
"You always need that, even if you don't want it, which I really did not want it," said Stewart, who celebrated her 17th birthday during the tournament. "You need it to prepare you for the tougher matches at the end."
Those matches never came, as Stewart lost only ten games in her last three matches, including a 6-2, 6-3 quarterfinal win over top seed Francesca DiLorenzo. Stewart took early leads and never lost focus or motivation, despite a drastic change in weather conditions which saw the usual heat and humidity of Memphis exit midweek, replaced by cool and cloudy weather. For the semifinals of singles and the doubles final, persistent rain forced the tournament onto the indoor clay courts of Tunica National, some 30 miles south of Memphis in Mississippi.
While Stewart was cruising through the tournament's later stages, Shaffer was showing her stamina and mental toughness, beating 2011 champion Gabby Andrews 7-6(4), 5-7, 7-6(4) in a nearly three-and-a-half-hour quarterfinal match and No. 4 seed Jessie Aney 1-6, 6-1, 6-2 in the semifinals.
The 17-year-old Ohio native, who trains at the Ivan Lendl Academy in Hilton Head, South Carolina, spent most of the spring on the sidelines with a back injury, without much success to build on in her few tournament appearances since May.
In the final, played under overcast skies with temperatures in the 60s, Stewart took control early, winning the first two games, both of which went to deuce.
"To get the lead is very important, especially in a final, when both of us were feeling the nerves," said Stewart, who trains with her father Caesar at Next Level Tennis Academy in Coral Gables, Florida. "Just executing your game quicker than your opponent is obviously an advantage and it just kept rolling for me. Once I got going, got the nerves out, I started hitting the ball, and it was really working for me today."