Championship Week
William Woodall Wins Boys 14 Singles, Alshon and Frye Take Doubles
by James Hill, 13 August 2014
William Woodall of Washington, D.C., put on a blue chip performance in winning the USTA Boys 14 National Singles Championship Aug. 8 at McFarlin Tennis Center.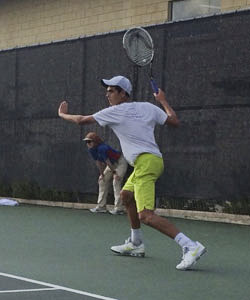 Woodall, the tournament's No. 5 seed, took out a scrappy 17th-seeded
Bill Duo
of Portage, Mich., 6-1, 6-3 to capture his first USTA gold ball. Key elements in Woodall's arsenal were his potent serve and a "roundhouse" backhand smash. Woodall dropped only one set in the seven matches he played between Aug. 2-8 at the San Antonio facility.
But, along with a powerful serve, Woodall also turned out to be a capable tennis strategist.
"My serve has been my weapon for all of my tournaments," said Woodall, ranked No. 21 in the Athletic DNA National Class Rankings. "On my serve, I was looking to hit a lot to his (Duo's) forehand and to his body. When you get used to that pattern, I hit it wide. I have to change up my pattern a lot."
Last year, Woodall faced a first-round main-draw exit. That certainly was not the case at this year's event, long-hosted by the San Antonio Tennis Association (SATA). In his route to the finals, Woodall beat San Antonio's Trey Hilderbrand (No. 10 seed) in the round of 16, Adam Neff (Bradenton, Fla.; No. 14 seed) in the quarterfinals, and No. 3 Blake Croyder (Marietta, Ga.) in the semifinals.
Woodall credits much of his progress this year to his training at the Junior Tennis Champions Center (JTCC) at College Park, Md., along with coaching from Brandyn Fisher.
"I think I matured and tried to get better each day," said Woodall, when asked about his success. "That's how I got here. Last year, I went to a normal school. This year, I go full time to the tennis center and study at an online school."
The JTCC is considered to be a premier training facility. It was selected by the USTA as the first regional training center for its "high-performance" program. The online institution to which Woodall referred is the Laurel Springs School, an accredited organization.