Recruiting 101
Countdown: College Prep Camps and Showcases
Tarek Merchant, 15 October 2014
Special from
ImRecruitable
College tennis showcases are growing in popularity, mainly because of the elimination of some USTA national tournaments and reduced draw sizes. If you want to get recruited for a college tennis scholarship, exposure is a key component to the process.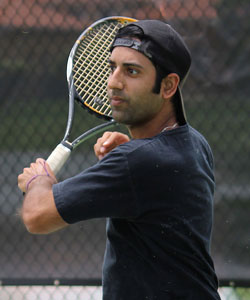 When deciding whether to attend a showcase, parents and players always have a lot of questions and concerns. I have personally been running showcases for several years now along with individually helping players and their families simplify the college recruiting process. In this article, I will give you some inside information on how showcases work and how to maximize your opportunities.
Who runs them?
College showcases are most commonly hosted by private companies/organizations that have a primary business of consulting players and their families for college scholarships. On one side these companies have a large database of prospective college tennis players who are looking for a chance to play at a college. On the other side they have a large network of college coaches who are looking for players to scout and recruit. They are the perfect type of organization to facilitate the recruiting task for both players and coaches.
Who should play in a showcase?
Showcases are designed to help 99% of sophomore, junior and senior tennis players that require the much-needed exposure to college coaches. The 1% that these showcases may not necessary apply to are players that are ranked in the top 100 ITF, play in national tournaments on a regular basis and are blue chip recruits on tennisrecruiting.net. Although top ranked players are already getting the exposure they need, I have never heard of too much exposure. College coaches from top ranked schools such as USF, U Miami, Memphis, etc. all attend my showcases on a regular basis. The rest of the 99% of players who are a 0-5 star recruits on tennisrecruiting.net, do not play national tournaments on a regular basis and do not get to play in front of college coaches, these events are for you!
Why do players attend?
The recruiting process has many components. For example you need an academic and athletic profile, a highlight video, contact with college coaches, etc. In addition to these components, the exposure at showcases helps to build relationships face to face. There are only so many scholarship spots each year awarded to players, which makes recruiting highly competitive. Players want to introduce themselves and show coaches in a live setting why they should select them for their team. This is impossible to do over the phone or via email. I like to think of a showcase like applying for a job. If you walk into a business and personally hand your application to a manager and get a moment to introduce yourself to tell them why you would be suitable for the position, this always gives you an edge over your competition. Players also attend showcases to learn more about the recruiting process, what colleges would be right for them and test their skills against the competition. This gives players and parents a realistic measure of what colleges and coaches they should be targeting.
Why coaches attend?
Coaches want to see players live in a competitive setting. This form of scouting in sports will never change. Coaches will take a player they have seen in person over a player of the same caliber that they have not had the chance to see and limit the risk factor. In an ideal world, a player would email a college coach, if interested the coach would communicate with the player and then meet and watch them play. Unfortunately this is only possible for colleges ranked in the top 50 in Division 1 scouting the 1% of players I mentioned earlier. So, what do the other 850 men's and 1050 women's programs do? They simply don't have the resources or budgets to do what the top 50 schools can do. They have a handful of scouting opportunities and therefore need to maximize their visits. Showcases featuring a large pool of players and is best suited for them.
When and where do they take place?
Showcases take place around the country at various times throughout the year. They are strategically placed in 2 types of settings.
(1) before and after national or international tournaments where college coaches are already in attendance. Since coaches are already in town with a limited budget, it is advantageous for them to see additional players. For example: The Eddie Herr and Orange Bowl in Florida attracts close to 100 college coaches. My organization hosts a college showcase just before the Orange Bowl and attracts over 50 college coaches. December in Florida is the best opportunity for everyone to get exposure!
(2) during summer months in highly populated college areas. For example: The northeast (Philadelphia, New Haven, Boston, etc. starting end of June to the end of July. Events in these areas are extremely popular as the northeast has more colleges than any other region in the country and the summer holidays giving flexibility for players and coaches to recruit without worrying about school obligations.
Please note: Locations and timing of showcases are not always convenient for all. It may conflict with school, your summer vacation and tournament schedule, but it is important to plan ahead and make these events a priority. They are precious opportunities and an important step in your recruiting process. They can make or break your chances of playing college tennis and should not be missed!
What is my investment?
Showcases range in price from $150 - $500. The prices vary based on demand, reputation, location, number of days and more. Showcases should not be judged on price, as these events take a lot of preparation, marketing, staff, rental of courts, equipment and sometimes even the expenses for coaches to attend. Because each showcase is unique, the costs cannot be standardized. Having said that, $500 for a showcase is a small investment, which includes match play experience, knowledge of the recruiting process, a player bio and an invaluable opportunity to showcase your talent and ultimately get recruited.
How to prepare yourself for a showcase?
Register early so the organizers can let the coaches know you are attending. They usually send out a list of players each week. Coaches can do their scouting reports and get in touch with you to tell you they want to meet you and watch you play. Organizers usually send out a weekly list of confirmed coaches so players can contact the coaches expressing interest in their colleges and that they'd like to be watched while they play during the showcase.
Top 10 reasons to play the ImRecruitable South Florida College Tennis Showcase
Opportunities to get exposure for recruits have been reduced due to the elimination of certain USTA national events and reduced draw sizes. Many of the tournaments now have a qualifying tournament, but college coaches only attend the main draw.
An equal opportunity for all players to showcase their talent regardless of your ranking or recent tournament results.
Skill leveled matchups ensure competitive matches. If won, this can help your recruiting status. A tournament has random draws, can often result in uncompetitive matches and will not help your recruiting chances.
College coaches from all three NCAA divisions and NAIA attend the events each year. This includes highly ranked tennis schools and top academic institutions from around the country.
Our coaches Question & Answer session gives the players and parents an opportunity to ask questions and hear what coaches are looking for and how they make a decision to recruit a player.
ImRecruitable facilitates the event in a recruiting friendly manner. Each coach receives a player's bio including all-important athletic, academic and contact information. The players wear numbers on their back for coaches to easily identify players and make notes on recruiting.
A short match format allows players to play against more opponents during the showcase. This gives the players many opportunities to showcase their talent to coaches regardless of one bad match.
South Florida attracts over 80 college coaches each year for the Eddie Herr International Tennis Championships and the Metropolia Orange Bowl Tennis Championships. Our showcase is held during the 2 days before the Orange Bowl, which allows 50 plus college coaches to attend. It is one of the largest recruiting opportunities in the country.
The Training Day the day before the showcase is a unique opportunity to train like a college tennis player on-court with college coaches. You will learn and discover best-fit colleges for you through in-class presentations by the coaches and get valuable coaching to improve and prepare your game for college tennis. Getting to interact and hang out with college coaches in an intimate setting can improve your chances to get recruited.
Showcases & Training Days are not official tournaments and therefore college coaches are able to contact and communicate with any player(s) throughout the events. At the same time, players may introduce themselves to talk with college coaches. At official tournaments, coaches and players have to wait until the player has been eliminated from the tournament to start any communication. Most of the time, the player and coach never get together.
Expert Advice: It is not recommended to put all your eggs in one basket (showcase). These recruiting events provide excellent exposure to college coaches and should be part of your recruiting process. In order to get a college scholarship, you also need to contact coaches, a professional highlight video, tournament results and much more.
Tarek Merchant is the Founder and Recruiting Expert of ImRecruitable.com, an organization that helps student-athletes and their families simplify the college recruiting process. Tarek has hosted many college showcases and recruiting events over the years and has helped hundreds of players receive scholarship opportunities and pursue their dream of playing college tennis.
Blue Chip Girls on Friday
Tomorrow we take a break from our Countdown for a wrap-up of the Tulsa ITF, but on Friday we are back with one of our signature articles: a look at the Blue Chip girls. Find out who's going where - and how your favorite program is doing on the recruiting trail. Check out that article - and let Tennis Recruiting give you a courtside seat for the Countdown to Signing Day!
About Wilson
Wilson Tennis is proud to sponsor the Recruiting 101 series of articles at TennisRecruiting.net.
Connect with Wilson on Facebook, Twitter, Instagram, and YouTube - or on their website.
Leave a Comment
More Recruiting 101 Articles
8-Jul-2019
Recruiting Terms and Calendar for 2019-20
Knowing the important dates and terms is a crucial part of the recruiting process. If you need a quick guide to help navigate the path to college, we've got you covered with our recruiting calendar. There are some key date changes at the Division I level this year.
19-Jun-2019
Want To Get Recruited? Fill Out Your Free TRN Profile
More than 2,000 college coaches research recruits through the Tennis Recruiting Network database. But they need help. They need more players to fill out their recruiting profiles thoroughly and provide updated contact information. Find out how to make it easier to get recruited for free.
12-Jun-2019
From No Interest To An Offer, Parks Is A Combine Success Story
Lane Parks arrived at the All-American College Combine in 2017 without any ranking or recruiting rating. He left with interest from three college coaches, including Paul Brower at Nichols College. Parks just completed his freshman season for the Division III program.