Commitment Profile
Countdown: Allie Sanford Commits to the Rebels
by Rick Limpert, 18 March 2015
Come this fall, Allie Sanford of Phoenix, Ariz., will trade cacti for magnolias and azaleas as she becomes a member of Coach Mark Beyers' Ole Miss Women's tennis team.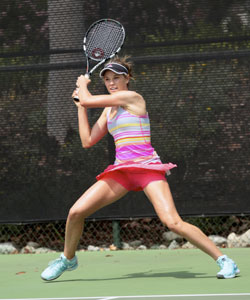 For Sanford, it's a relief knowing she is going to her top choice when it came to schools for tennis and satisfaction knowing that all the hard work, time and effort she and her family put into her development as both a tennis player and a person have paid off.
"Family is a big part of my life," explains Sanford. "I'm the second oldest of 16 cousins. Most of them live within a mile of me, so it's been fun watching them grow up, and having a strong network around me. I'm grateful for that, and grateful especially for my parents who have supported me every step of the way. I wouldn't be here without them."
Family will continue to be a part of her life at Ole Miss.
"My sister, Brianne, goes there right now, and my uncle, Danny Sanford, played golf for the Rebels."
Sanford said her sister raves about the college life at Ole Miss and in her time in Oxford, she noticed that the people treat you so well.
"It's a very cool town and charming. There is a lot of opportunity to get involved in organizations and get involved in school. The people are interested in getting to know you."
As for tennis, Sanford felt comfortable with the program and with Coach Beyers.
"When Coach Byers contacted me, I had an instant connection with him," Sanford explained. "He would be the best coach for developing my game. He's done so well with many other athletes that are kind of like me. I felt he would be a good fit for me."
Here's some good news for Ole Miss tennis. Sanford believes her best tennis is still ahead.