Tournament Feature
Fritz, Liu Win ITF Championships at Easter Bowl; Crawford, Martinelli, Neff, Osuigwe, Heck and Price Earn USTA Titles
by
Colette Lewis
, 18 April 2015
Fantastic weather and unlikely comebacks made the 2015 Asics Easter Bowl a tournament to remember last week, with the famous Indian Wells Tennis Garden hosting both the ITF Grade B1 competition and the later stages of the USTA 12s, 14s, and 16s championships.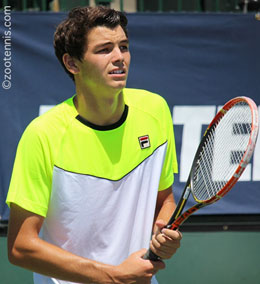 Seventeen-year-old
Taylor Fritz
and 14-year-old
Claire Liu
captured the ITF titles,
Samantha Martinelli
and
Oliver Crawford
were crowned 16s champions,
Adam Neff
and
Whitney Osuigwe
earned 14s titles and
Gabby Price
and
Hunter Heck
finished first in the 12s competition.
Top seed Fritz, who had reached the finals of the inaugural ITF Junior Masters in Chengdu, China just two days before he began play at the Easter Bowl, showed signs of fatigue and jet lag in his opening two matches, but he moved through in straight sets. In his third round match against unseeded qualifier Patrick Kypson, Fritz trailed 6-4, 5-0, yet managed to tap another reservoir, going on to take an improbable 4-6, 7-5, 6-2 victory. After a three-set win over unseeded Cameron Klinger in the quarterfinals, Fritz took out 2014 finalist Nathan Ponwith 7-6(5), 6-0 in the semifinals.
Fritz's opponent in the final, No. 14 seed Sam Riffice, had beaten No. 3 seed Ulises Blanch in the third round, No. 10 seed Mwendwa Mbithi in the quarterfinals, and ended the winning streak of Carson International Spring Champion William Blumberg, the No. 2 seed, with a 6-2, 6-0 victory in the semifinals.
Fritz admitted that the comeback against Kypson made him even more determined to win the title.
"After you have one of those, you have to give it your all to win the tournament," said Rancho Santa Fe resident. "It's crazy to think how early that was in the tournament, with so many matches to go. But I just got better and better each match after that. And it woke me up, to focus on not getting down like that before I get super into it."
Fritz had no problems with jet lag, focus or his game in the final, saying his level of play in the 6-2, 6-3 victory was the best it had been all week.
"It reminded me of how I was playing before I got all jet lagged," said Fritz, who trains with his father, Guy Fritz. "I was playing great in China, and I felt really good today."
"Everything but the serve was working extremely well, but the serve was better than it had been all week," added Fritz, who didn't face a break point in the match. "I can't complain about any of that; I just played a really good match today."
The match featured several outstanding points, leaving the approximately 150 spectators gasping then applauding at the defensive skills and big hitting. During one dazzling point with Fritz serving for the first set, Riffice hit an excellent tweener, and although it wasn't an outright winner, he did win the point, to loud whistles and cheers from the crowd. But Riffice knew that style of play wouldn't help him beat Fritz.
"I really wanted to dictate more and be on the offensive," said Riffice, a 16-year-old from Sacramento, who trains with the USTA in Boca Raton. "I just didn't have a chance. Right off my serve, he was pushing me back. And off his serve I couldn't get any good chances. I was trying to be aggressive but I didn't have a chance."
Riffice had lost to Fritz in the second round of the Pan American Closed last October by a 6-3, 6-2 score, and although the final scores were similar, Riffice believes Fritz has improved since that match.
"His first serve percentage is higher [now] and he is a lot more consistent," said Riffice. "Today he was making more balls."
Fritz said Riffice's game resembles his own.
"Sam and I play pretty similar," said Fritz, whose mother, the former WTA Top 10 player Kathy May, was in Indian Wells for the final. "He moves better than I do, but we both try to be aggressive, so I was most of the time taking the first strike before he was able to."
Asked what he learned about himself this week, Fritz answered: "I can play pretty well jet lagged. And I also learned I don't always have to be playing my best tennis, as long as I can just fight and keep my head in it. Sometimes that's all you need, the heart to win the match."