Tournament Feature
USA Qualifies for Finals of ITF Junior Team Championships
by
Colette Lewis
, 5 May 2015
Representing your country at the International Tennis Federation's two world team championships is a highlight of any junior career. The cheers, the uniforms, the face painting and the pressure of team competition all were on display last weekend in Boca Raton, Florida, where the four teams from the US secured places in the 16-team world finals this summer and fall. The 16-and-under Junior Fed Cup and Junior Davis Cup teams will compete in Spain in September, while the World Junior Tennis competition for players 14-and-under will take place in the Czech Republic in August.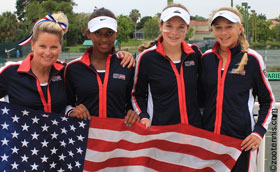 Canada and Mexico joined the US in Boca Raton for the North/Central American qualifying, with Guatemala the fourth country in the World Junior Tennis competitions. The Dominican Republic, which won a pre-qualifying competition to advance, was the fourth team in Junior Fed Cup play, with Aruba rounding out the quartet of teams in Junior Davis Cup.
There are no seeds in the tournament, but the draw in three of the four groups allowed for the traditionally strong teams from Canada and the US to decide the two qualifiers before they met Saturday, the third and final day of the competition.
In the fourth group, the girls World Junior Tennis competition, Canada and the US met in the first round with the US team winning 3-0, and leaving the official determination of the two teams advancing to the Czech Republic until the conclusion of play on Saturday.
Those US girls - Caty McNally, Amanda Anisimova and Hurricane Tyra Black - were the most dominant team competing on the Har-Tru courts of the USTA's National Training Center, losing only 22 games in nine matches. After wins Thursday and Friday over Canada and Mexico, they wasted no time in demolishing Guatemala, with Black winning 6-0, 6-0 over Maria Gabriela Rivera at No. 2 singles and Anisimova beating Rut Galindo 6-0, 6-1 at No. 1 singles. McNally, who had played No. 1 singles against Canada, and Anisimova then won the dead rubber in doubles 6-0, 6-2.
Coach Kathy Rinaldi knew she had a good team coming into the competition, but with the 13- and 14- year-olds competing in a team event for their country for the first time, nothing is routine.
"Caty came in with having a great Easter Bowl, Tyra came in winning some ITFs and Amanda has had some good results as well, and they all play really good doubles," said Rinaldi, who coached the USA's Junior Fed Cup team to the world title last year. "We've had some tough matches in the past with these countries in the qualifying, and when you're representing your country, representing your team, it's a much bigger deal and sometimes the nerves come out. But the girls worked hard, they had fun."