Clay Court Championship Week
Saud Alhogbani Wins USTA Boys 12 Clays
by James Hill, 21 July 2015
Twelfth-seeded Saud Alhogbani won the singles title of the USTA Boys 12 Clay Court Championships with a 6-1, 6-4 victory over No. 4 seed Karl Lee on July 18 at Hanes Park-Joe White Tennis Center.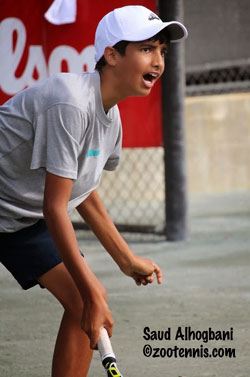 Alhogbani, who hails from Alexandria, Va., captured the coveted gold ball by knocking off four higher-seeded players in the process. The USTA National Selection Tournament champion took out sixth-seeded
Samuel Landau
of Los Angeles in the round of 16 and No. 2 seed
Zachery Foster
of San Antonio in the quarterfinals. Alhogbani then defeated No. 8
Alexander Bernard
of Bonita Springs, Fla., in the semis, setting up the championship match with Lee, a resident of Los Altos, Calif.
The new champion, with an RPI of 1 entering the tournament, did not drop a set in any of his seven matches in the course of the week in Winston Salem. Alhogbani trains at the Junior Tennis Champions Center (JTCC) at College Park, Md. Two advisers to the program are Mats Wilander and Brian Gottfried.
The senior director of high performance at JTCC, Frank Salazar, had nothing but praise for one of his top charges. "Saud had a tremendous week, and he really enjoys getting to the trenches and competing," Salazar said. "He has a great understanding of how to construct points and figuring out what's working - or not working - during competition. Saud is a true student of the game and wants to be a great player."
Lee, with an RPI of 22, also was a straight-sets winner all the way to the finals showdown. The tightest match for Lee occurred in the semifinals, when he edged fellow Californian and top seed Hugo Hashimoto of San Jose 7-6 (4), 6-3. Lee, who trains with Michael Jessup at Player Capital in his home area, is also an accomplished doubles player. The talented pair of Lee and Hunter Heck won the 2014 USTA Winter Nationals and the 2015 Easter Bowl.