Clay Court Championship Week
Ellyse Hamlin Wins Singles, Doubles in Girls 18s
by James Hill, 24 July 2015
MEMPHIS, Tenn. - Ellyse Hamlin has some glittering hardware on display at her home in Fairfield, Conn.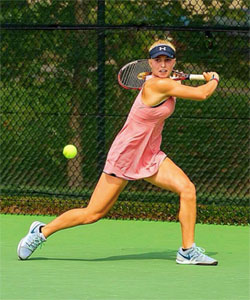 Hamlin captured the gold balls of the singles and doubles events at the
USTA Girls 18 Clay Courts Championships
at The Racquet Club of Memphis. The sixth-seeded Hamlin beat No. 17
Kaitlyn McCarthy
of Cary, N.C., 6-7 (8), 6-1, 7-5 in a three-hour singles battle. Hamlin and
Katharine Fahey
of Fair Haven, N.J., the No. 2 seeds, won the doubles crown with a 7-6 (4), 6-0 victory over the unseeded team of
Madison Battaglia
(Cold Spring Harbor, N.Y.) and
Victoria Flores
(Fort Dodge, Iowa).
"I stayed focused on my game plan," said Hamlin of the singles final showdown, "and was physical with every ball I hit. I came up with some big shots. It was a really tough match, and was a fun match to play."
Hamlin, with an RPI of 4, competed in an earlier championship final, at the 2013 USTA Girls 18 Winter Nationals. Jamie Loeb emerged as the winner of that contest. At the Memphis championships, Hamlin eliminated top seeded Jessie Aney of Rochester, Minn., 6-4, 6-0 in the quarterfinals. She earned the right to compete for the title with a 6-2, 7-6 (3) semifinals decision over No. 5 Mia Horvit of Palm City, Fla.
"Coming into this tournament, I put a lot of work on my fitness and making sure I was in the best shape possible," Hamlin said. "I played 13 matches in the Memphis heat and humidity, so I think that was a huge strength. I also put a lot of time into my ability to concentrate during matches and to play every point to the best of my abilities."
Hamlin trains at the Intensity Tennis Academy in Norwalk, Conn. At courtside during the entire tournament was no less than the senior director of high performance and player development. Oh, by the way, the gentleman in question was Ryan Ginley - Hamlin's coach and her father.
"My dad is always there for me and gives me really concrete plays for me to execute when I'm on the court," Hamlin said of her pop and mentor. "He also videos my matches so I can watch them and learn from my mistakes, and also get reinforcement from the things I did well."