Special Feature
Top Pros Weigh In On College Tennis Decision
by Blair Henley, 28 August 2015
Ask a group of 12-and-unders at the local courts what they want to be when they grow up, and you'll likely hear some of them answer enthusiastically: "A pro tennis player!"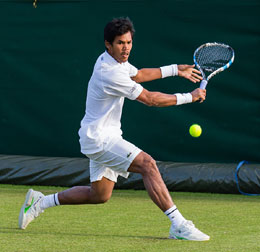 But in a few short years, even the very best of those rising stars must decide whether to give college tennis a try or chase their childhood dreams on the pro tour.
Thanks to the professional success of former college standouts like Kevin Anderson, Steve Johnson and Somdev Devvarman, it is becoming increasingly evident that top juniors can successfully do both. We spoke to all three men about their decision to attend college, life as a pro and their advice to junior tennis players.
The Right Choice For "99 Percent"
Decades ago, when players were regularly winning Grand Slams in their teens and early 20s, it was easy to argue that college tennis hijacked years of key tour experience. Now, with the average age of the world's Top 10 sitting at 28.5 and rising, the downside to testing the college tennis waters is quickly evaporating.
Kevin Anderson spent three years at the University of Illiinois where he won an NCAA doubles title with partner Ryan Rowe. Now 29 years old, he has reached a career-high singles ranking of No. 14 in 2015.
"[College tennis] is a great system for 99 percent of the kids out there," said the South African. "It gives you an incredible opportunity to play pro tournaments in the summer, and in the spring you've got dual matches in a competitive environment."
Somdev Devvarman, a two-time NCAA singles champion at the University of Virginia, dreamed of making his living on the pro tour, but once he decided to test his skills at a successful Division I program, he was hooked.