Tournament Summary
Kalinskaya Sweeps International Hard Courts Titles Again; Auger Aliassime Takes Boys Championship
by
Colette Lewis
, 1 September 2015
A veteran and a newcomer were the stars of last week's ITF Grade 1 International Hard Court Championships, with top seed Anna Kalinskaya of Russia defending her title with a 6-4, 7-6(3) win over No. 2 seed Tereza Mihalikova of Slovakia, and No. 7 seed Felix Auger Aliassime defeating No. 15 seed Denis Shapovalov 6-2, 7-6(6) in an all-Canadian final at the Junior Tennis Champions Center in College Park, Maryland.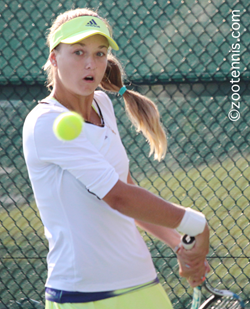 The only hot and humid day of the otherwise sunny and pleasant week was Monday, when a dozen seeds were eliminated, including the jet-lagged top boys seed
Yunseong Chung
of Korea, who retired after losing the first set to
Trent Bryde
of the United States.
By the time the boys semifinals were set, the top five seeds were out, with qualifier Jake Van Emburgh of the US, who beat two seeds en route to the semifinals, losing to Shapovalov 6-0, 6-2 and Auger Aliassime outlasting No. 14 seed Alex De Minaur of Australia 3-6, 6-3, 6-4.
In addition to the top two seeds, the girls quarterfinals featured two qualifiers, with 13-year-old Amanda Anisimova of the US seeing her impressive run come to an end against Mihalikova, while Madison Battaglia extended her winning streak to seven with a gritty 6-4, 6-7(3), 6-3 win over No. 6 seed Iryna Shymanovich of Belarus.
Battaglia, a 17-year-old New Yorker playing in just her third ITF tournament, lost to Kalinskaya 6-1, 6-4 in the semifinals, and Mihalikova defeated No. 5 seed Vera Lapko of Belarus 4-6, 6-4, 6-3.
The final between the friends and doubles partners was competitive, but Kalinskaya acknowledged neither played her best tennis.
"It was difficult to take her serve, because she served very well, but I think we both did a lot of mistakes. I think we could do better," said Kalinskaya. "Maybe because we're friends."
Kalinskaya did not lose a set in singles or doubles in sweeping last year's championships and had not lost a set this year. But serving at 5-6 in the second set, Kalinskaya had to save five set points in the seven-deuce game to keep that record intact.
"I was up 30-0 and then I did two double faults," said Kalinskaya, who reached the French Open girls final this year. "So my serve was not working [well]. I was nervous, but in the set points, I started to move better, and I won."
Mihalikova was disappointed she was unable to capitalize on all those chances to force a third set.
"I was so nervous every time when I had advantage," said Mihalikova, the Australian Open girls champion. "When she had the advantage, I finally hit the returns I wanted, and I said to myself, 'Why not when I had set point?' On my set point, every time I made mistakes - she didn't need to do [anything]."
In the tiebreaker, errors were more common than winners, but a let called by the chair umpire that neither player heard proved to be Mihalikova's undoing. Looking incredulously at Kalinskaya and at the chair umpire after what appeared to be an ace, Mihalikova ended up double faulting at 5-3, and Kalinskaya converted the first of her three match points with a perfectly executed drop shot.
Mihalikova made it clear that the officiating was not to her liking, although she did not blame it for her loss.
"They made some - a lot - of mistakes," the 17-year-old said with a smile. "But still, I should play. Today I made a lot of mistakes, and when it was [an] important time, I [made] a mistake and Anya won... So today, she deserved it."