Getting Started
Step One of the Recruiting Process
by Tony Minnis, 3 February 2016
Over the course of my many years in college tennis, I have been asked the following question more than any other:
What should prospective student-athletes look for in choosing a college?
I have thought about this question a lot, and I have come up with a very simple answer: find the university, team, and coach that are the best fit for your goals, philosophy, and experience. That is a simple answer, but as always, the devil is in the details.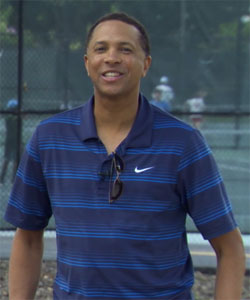 One of the most interesting aspects of college tennis today is the number of transfers that occur
every year
. Men and women's tennis have among the highest - if not
the
highest - transfer rate of any college sport. This situation is very problematic for everyone involved - coaches, players, teams, and administrators.
This transfer issue could be substantially reduced by following some simple and common-sense advice at the very beginning of the recruiting process. When a prospective student-athlete sits down to start making decisions about colleges, it is extremely important to be very candid, realistic, and honest about several areas:
The goals that the prospective student-athlete wants to attain.


The type of program the prospective student-athlete wants to attend.


Their realistic level of play and the opportunity to play in college.


How hard do they really want to commit to their tennis in relation to their choice of schools?
The goals of the prospective student-athlete are very important because those goals must be consistent with the goals of the particular college coach or team. It is very important to have an understanding of what you are getting into - and more often than not, student-athletes start college with unrealistic expectations. The student-athlete must adapt to the system that the college coach has in place - it is not the responsibility of the coach to adapt to the player.
I have consistently heard over the years the following phrase from players looking to transfer: the program was not what I expected. These misperceptions are why it is extremely important to have an understanding of what you are getting yourself into - and it starts in the very early stages of recruiting.
It seems like more and more these days, prospective student athletes are making decisions to commit to schools during their junior or even their sophomore years. This can be very risky when student-athletes commit without even taking a visit and getting a chance to know the program. For example, when student-athletes commit during their sophomore years, most of the players on the team will be gone by the time they get to college, and the student-athlete will be with a group of players who had nothing to do with persuading them to attend the university.
Once a prospective student-athlete has an understanding as to what they want to accomplish out of their college career, it is now time to make a list of schools. The first thing that I would recommend is to make a list of schools and break them down into three tiers:
My Dream School.


Schools that are not necessarily my top choices but very desirable.


Schools that I can very realistically compete on and get financial aid.
By coming up with schools in all three tiers, student-athletes can protect themselves in case the opportunity to get a scholarship to their dream schools is not an option.
The next step is to make a list to gain an understanding of what the prospective student-athlete is looking for. What are the factors in choosing a University that a prospective student athlete should consider?
Quality of Academics
Does he or she have the grades to get into the college?
Rankings of programs in relation to the prospective student athlete's level
The current head coach of the team
The realistic opportunity to play and factor in the program
How many scholarships are available
Current and future players on the team
Structure of practice and conditioning programs
Knowledge of whether individual lessons are a part of the program
Track record of the head coach and team in relation to player relationships
This is a list of the most-asked questions that every prospective student athlete should ask! Time should be taken to thoroughly go through each of these questions to find out the correct answers for schools of interest. It is better to take things more slowly and get the correct information on the front end than it is to be unpleasantly surprised once you arrive on campus. It is important to focus on the process during recruiting in order to get the desired result.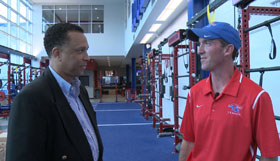 Minnis advises high school tennis players to contact coaches at the end of sophomore year
Once a prospective student athlete does his or her due diligence, it is now time to start contacting coaches. The best way to contact a coach is to send an email or letter expressing your interest in their program. This email should be a very brief introduction which includes your GPA, SAT score, rankings, and results from tournaments. You should also include a schedule of potential tournaments where the coach can see you compete.
I believe that these letters or emails should go out at the end of your sophomore year or beginning of your junior year. This gives the student-athlete significant time to start in the process. If possible, a video is also a good thing to send - especially if the college coach will not have an opportunity to see the prospective student-athlete compete in any practice or tournament. The video should be between seven and ten minutes long and showcase the strokes of the prospective student-athlete and a few points to give the coach an idea of their level.
Minnis, who is a principal at Advantage Tennis Recruiting, will return next month to talk about Step 2 of the recruiting process - Official and Unofficial Visits.
About Wilson
Wilson Tennis is proud to sponsor the Recruiting 101 series of articles at TennisRecruiting.net.
Connect with Wilson on Facebook, Twitter, Instagram, and YouTube - or on their website.
Leave a Comment
More Recruiting 101 Articles
26-Sep-2019
Need a Checklist to Stay on Track for College? Check This Out
Staying on track to be eligible to play in college can be an extensive undertaking. The USTA has created a checklist for prospective student-athletes that is broken down by high school grade levels.
29-Aug-2019
Focusing On Process, Not Outcome Can Help Improve Results
Players often ask what is the best way to improve their rankings or ratings to get recruited by more colleges. Former college coach David Donn of Donovan Tennis Strategies says focusing on the process rather than the end result is the best place to start.
8-Jul-2019
Recruiting Terms and Calendar for 2019-20
Knowing the important dates and terms is a crucial part of the recruiting process. If you need a quick guide to help navigate the path to college, we've got you covered with our recruiting calendar. There are some key date changes at the Division I level this year.
About Tony Minnis
Tony Minnis served as the head women's tennis coach at LSU from 1991-2012 and coached his team to 15 NCAA Tournament appearances. Minnis was named Coach of the Year on six different occasions and coached ten All-Americans. Minnis played collegiately at the University of Louisiana-Lafayette from 1984-88 and helped lead his team to four consecutive Top 25 finishes. Tony is currently hosting the TV show
College Sports Weekly
which appears on FOX College Sports and other networks.