Video Feature
Three Things We Wish You Knew About Recruit Videos
by Julie Thiets, 16 December 2015
The recruiting process can be confusing - with countless rules about what recruits can do and when. At High-Tech Tennis, we are very close to the junior tennis scene, and we are excited to share three things we wish you knew about recruit videos: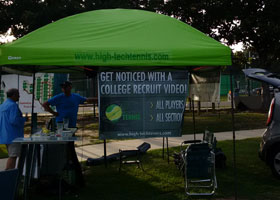 1. START EARLY
We contacted parents of recruits who had already been through the recruiting process, and we asked them to share the one thing they wish they had known. Their answer was overwhelming: recruits and their parents had no idea that the recruiting process started as early as it did. More often than not, a recruit who waits until senior year to get serious about college is late.
How can they be late with months to go before graduation? Because college coaches scan upcoming classes, watching carefully as players develop throughout high school. Players who procrastinate are at a gigantic disadvantage when they delay, while their peers are getting on the radar of college coaches.
We know from our recruit video work that many recruits start late. While many of our clients are juniors, a large number of them are seniors. On the other hand, some players start early - as sophomores or even freshmen. These early starters establish connections with coaches, and they update their recruit video as their skills improve. And although it is a sensitive subject, we note that international recruits are way ahead of Americans when it comes to reaching out to college coaches.
Coaches want to connect with and get to know the recruits before they offer them a spot on their teams, and they do not want to get started just a few months before graduation. It is human nature to wait until the last minute, and procrastination is a tough habit to break but we wish more recruits would start early because it could help them increase their opportunities.
2. BE REALISTIC
"I am going to be a pro tennis player when I grow up!"
I cannot count the number of players who have told us that! In fact, it seems almost every junior tennis player goes through that phase - usually when they are ten or eleven years old. But we all know that pro tennis is unlikely to happen for most.
Next comes the, "I want to play D-I tennis!" phase. That might happen depending on their skills and other factors, but the odds there are low as well.