Who's Hot?
PlaySight Hot 100 List - January '16
by Amelia Thomas, 18 January 2016
While school was out for the winter holidays, many players took advantage of their free time to spend extra hours out on the court. We caught up with some of these notable players in this month's PlaySight Hot 100 Lists.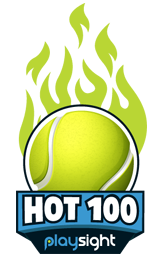 The PlaySight Hot 100 lists are published each month, and the January Hot 100 lists feature the one hundred boys and girls who most improved their rankings during the month of December. You can find out more about the PlaySight Hot 100 - and how the lists are calculated - by reading here.
The latest lists, published earlier today, are available here:
We talked to a few of these top performers...
Roundup
Emma Corwin (Elm Grove, Wisc.)
Two-star junior Emma Corwin - who projects to be a three star when the new ratings come out in a few weeks - comes from a family of avid tennis players. Her father, Timon Corwin, played tennis at Kalamazoo College and won the D-III national singles title as a senior. He played professionally in Europe for several years before returning to coach at Kalamzoo, the USTA in Boca Raton, and now at Western Racquet Club. Emma Corwin's two older brothers also play college tennis.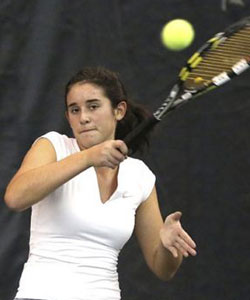 With a family like Corwin's, it is no wonder she became interested in tennis. "My family's shared love of the game got me into the sport. I've been surrounded by the tennis environment my whole life," she said. "When I was young, I would cheer on at the Kalamazoo College matches. When the boys 16s and 18s Nationals came to Kalamazoo every August, I was down on the court ball running."
In addition to crediting her father's influence, Corwin cites her heightened confidence as a factor in her recent success. Coming out of a strong high school season fueled Corwin's confidence in her game. She led her team at Brookfield East High School to the state finals, where she left the tournament undefeated.
After the state tournament, Corwin invested in both on and off court training. "I work out with my trainer three times a week, which has given me confidence in my strength. On the court, I spend ten hours per week doing group and private lessons," she said. "These past few weeks, I owe my good play to my hard training, growing confidence and smart mindset."
In addition, Corwin has been working with her coach, her father, on footwork. "I'm working on getting behind the ball so I can transfer my weight forward. I hit with several boys who easily overpower me, but they aren't as dominant when my contact point is out in front and my legs are driving forward," she said.
Corwin took these many improvements into her self-described best match of December. She met fellow junior Madelyn Bemisderfer in the finals of the Midwest Sectional in Elkhorn, WI. "It wasn't my best win because the score was tight - it was my best win because through the course of the match, I never let up or lost focus," she said. "My unforced errors were at a minimum, and my serve was winning me free points."
Through all three sets, the score was indeed tight. Corwin lost the first set, 6-7, but came out on top in the second set, 7-6 (7-3). "Down 3-7 in the third set tiebreaker, I stopped thinking about winning or losing and just focused on the ball coming over the net. Madelyn played similarly to me, with aggressive groundstrokes. It was a grind." This mental strategy proved successful, and Corwin took the match.
In addition to becoming the champion of the USTA Midwest Tournament, Corwin reached the consolation quarterfinals of the USTA Midwest Winter Championships in Burr Ridge, IL. These two tournaments earned her an 8-2 record for December.
With strong family support in one hand and notable recent results in the other, Corwin has begun thinking about college. "I am looking for a school with strong academics and a tennis program I can grow into and help the team," she said. "The girls on the team, the coaches, the facilities and the match atmosphere are all important to me when looking at different tennis programs."