Tournament Summary
Ukrainian Girls Sweep Junior Orange Bowl Titles; Tirante, Wang Win Boys Championships
by
Colette Lewis
, 30 December 2015
The 2015 junior tennis season wrapped up last week at the 54th annual Junior Orange Bowl in Miami, with historic firsts for three of the four champions.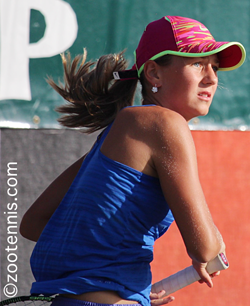 When
Marta Kostyuk
won the Girls 14s title and
Dasha Lopatetska
won the Girls 12s title, they entered the tournament's record books as the first champions from Ukraine, while Boys 12s champion
Xiaofei Wang
is the first champion from China at the prestigious international event.
Kostyuk, seeded No. 5, added the Junior Orange Bowl title to her Eddie Herr championship earlier in the month by defeating fellow 13-year-old Naomi Cheong of the United States 6-3, 6-4 in the final, played at the Neil Schiff Tennis Center at the University of Miami.
Kostyuk had come back from a set down to defeat unseeded Yuki Naito of Japan in the semifinals, the only set she lost in her seven matches. Cheong, who had beaten top seed Ekaterina Makarova of Russia in the quarterfinals, also was down a set in the semifinals, to unseeded Loudmilla Bencheikh of France, and had saved two match points in her 6-3, 1-6, 7-6(6) fourth round win over Thasaporn Naklo of Thailand.
Cheong looked to be ready to stage yet another comeback in the final, when she went up 3-0, breaking Kostyuk in her first two service games of the second set.
"I played very bad then," said Kostyuk, who lost eleven straight points from 30-15 up in the first game of the second set. "Maybe she started thinking, I can win, and she started doing more mistakes, so I was like, c'mon, let's go, you can do it."
Cheong, one of the No. 9 seeds, agreed that once Kostyuk relocated her game, Cheong wasn't getting any free points.
"I had to force her to make errors," said Cheong, who lives and trains in Las Vegas. "And she made even less errors after I went up 3-0. Of course you want them to miss, so you can get the points, but you have to learn how to earn it yourself. This was good for me, because I can get better at doing that. If I have chances, I need to take them."