Recruiting Profile
A Conversation with Raveena Kingsley
by
Colette Lewis
, 12 February 2016
Seventeen-year-old Raveena Kingsley made several important decisions last fall. The No. 1 recruit in the Tennis Recruiting Network's Class of 2016 decided to stop playing junior tennis after the US Open and selected LSU for her collegiate career.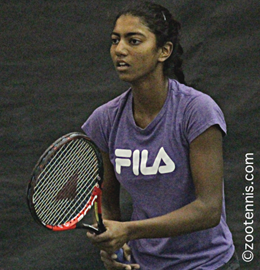 Lackluster results on the ITF Women's Pro Circuit to end the year led Kingsley, a senior at California Connections Academy, to work even harder in preparation for 2016. After many years at the
Junior Tennis Champions Center
in College Park, Maryland, Kingsley began working at the
Dent Tennis Academy
over a year ago, and she has now made Southern California her home and training base.
Kingsley opened the 2016 USTA Pro Circuit at the new $50,000 event in Maui, as one of the last two players to receive acceptance into the main draw. She started the week with a win over WTA 198 Julia Boserup, then defeated No. 8 seed and WTA 184 Miyu Kato of Japan, No. 2 seed and WTA 107 Samantha Crawford, and No. 5 seed and WTA 156 Jessica Pegula. Kingsley faced her first WTA Top 100 player in the final, top seed and WTA 65 Christina McHale, leading 4-2 in the final set before falling 3-6, 7-6(5), 6-4.
Kingsley caught a flight that night to begin the trek to Midland, Michigan for the $100,000 Dow Corning Tennis Classic, where she received a special exemption into the main draw after reaching the final in Maui. Kingsley picked up another WTA Top 200 win over No. 4 seed Anna Tatishvili before falling to Shelby Rogers in the second round. Results from those two weeks have brought her WTA ranking from 602 to 375.
In Midland, I sat down with Kingsley to discuss what led to her recent results and the impact those results may have on her decision to attend college. We also spoke about her introduction to the game, her preparation when facing a new opponent and the pro players she admires.
Questions and Answers
Colette Lewis (CL): Why did you stop playing juniors after the US Open last year?
Raveena Kingsley (RK): It wouldn't be good to keep playing juniors. If I really want to become a professional and start playing the grand slams and stuff, I have to play more pro tournaments, get more pro points. I don't think juniors will help with that. Before I was playing mostly juniors and not very much of pros, so now I'm just playing only pro tournaments.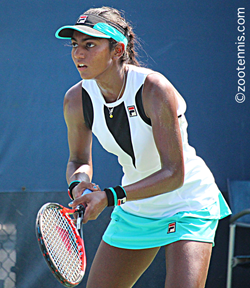 CL: How would you describe your results on the Pro Circuit last fall?
RK: I played one 10K and two 25Ks. I got to the quarters of the 10K and after that I had one good win (over WTA 156 Cagla Buyukakcay) and then I didn't do very good. I went to India to try to play some tournaments, but that didn't work out well, because I had an ab injury in one, and I was sick for the second one, which messed up the third tournament completely.
CL: When did you decide to commit to LSU?
RK: That was after the 25s in South Carolina. That's like a backup.
CL: Did you visit Baton Rouge?
RK: No, I haven't been there.
CL: Do you have a ranking number in mind that you'd need to reach to bypass college?
RK: I'd like to be Top 200 or Top 150 and be able to stay there and hold that position, keep moving up. So that's when I'll make the decision.