College Feature
NCAA Tournament Roundtable - Part I
by TennisRecruiting.net, 9 May 2016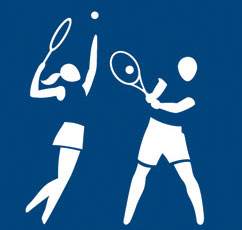 The brackets are set. This weekend, the NCAA Division I Tennis Championships get underway. 64
men's
and
women's
college tennis teams will head to campus venues around the country to compete in first- and second-round action. The winners will make up the Sweet 16 and head to Tulsa, Oklahoma, to compete for the team championship May 19-24.
Hopefully you can get out to watch some of the action this weekend, but there are plenty of places online to get your fill of championship college tennis:
TennisRecruiting.net invited some of our college tennis contributors to answer some questions about college tennis and the NCAA tournament. Today, in Part 1, we see their comments on a pair of questions. We will hear more from them in Part 2 on Friday.
Questions and Answers
Q) There were some great stories to close out the college tennis regular season. The Wake Forest men upended top-seeded Virginia in dramatic fashion to win its first-ever ACC Championship and end the Cavalier's nine-year streak of titles. The Florida men won the SEC title - its first under Bryan Shelton and first since 2011 - handing top-seeded Georgia its only SEC loss of the season. In the Ivy league, four women's teams finished within a game of regular season champion Princeton.
What performances stood out to you coming into the NCAA Championships?

Colette Lewis, ZooTennis.com
I was impressed by four women's teams: Florida, North Carolina, Ohio State and Oklahoma State. Going through a Power 5 conference season undefeated is tough enough, but adding a title in the conference tournament is a testament not just to their excellence, but also to their focus.
The Ohio State and UCLA men also dominated their conferences, both winning regular season and tournament titles. The Bruins haven't lost since February, with both of their losses this year coming indoors, and Ohio State, also with only two losses on the year, dropped just one point in its 14 consecutive conference wins.

Granger Huntress, Texas College Tennis
I have to say there are two: Rice's win over Texas Tech and Notre Dame's upset of then top-ranked UNC. The Owls beat a top-10 ranked team before falling to Lamar the next week. And Notre Dame lost to Clemson but somehow dominated UNC, 5-2.

Rick Limpert, College Contributor
The Wake Forest win over Virginia was huge and shows the parity that once again exists in college tennis. Coach Shelton is doing a fantastic job at Florida and he does a great job at assembling a true "TEAM." Can Georgia rebound after that tough loss against their main rival in the Gators?
The women's field of 64 is intriguing in that it's so wide open.
Bobby Knight, College Tennis Today author
Wake Forest snapping Virginia's nine-year reign as ACC champions was a huge deal because it meant that anything is possible in this new era of no-ad scoring.
While Virginia's reign ended, East Tennessee State's continued as the Bucs won their tenth consecutive conference championship after winning the Southern Conference. TCU capping off a great regular season with a conference title at the Big 12 Tournament was nice as well.
On the women's side the return of Carol Zhao took Stanford from a likely third or fourth place finish to another conference championship after they beat both Cal and USC in the final week of the regular season.

Marc Lucero, Co-founder and Director of Tennis, RAMP Tennis Academy
From a spectator's point of view, I have loved seeing so much parity in college tennis this year on both the men's and women's sides. Quite a few programs that have traditionally hosted are going on the road this year.
Two story lines have stood out to me this year: the rise of Pepperdine on the women's side and the power struggle at the top of the ACC on the men's side with UNC, Wake Forest, and Virginia jockeying for the top spot.

Joey Dillon, College Contributor
On the men's side, you have to give credit to Bryan Shelton's Florida Gators. Coach Shelton's first few years in Gainesville were tales of "almost there, but not quite." Handing UGA their loss gave them a high for their season that was full of some brutal 4-3 losses.
For the women, the Stanford Cardinal proved yet again you can't count them out with a Pac-12 title. With Carol Zhao fully in their lineup, they can challenge anyone for the title.
Scott Treibly, Recruiting Coordinator at IMG Academy
To start the season, it was great to see North Carolina and Cal win national championships at the ITA Indoors. The Columbia men continue to impress - with another Ivy league title despite losing multiple starters. And wow, the depth in the Big 12 is amazing - so many great programs in that league. I would like to take my hat off to Matt Hill and South Florida who have won The American Conference three years in a row. And congratulations to the entire American Conference men who got five bids into the NCAA championships. Lastly, the UNLV men and women both won the Mountain West tournament this year after losing first round last year. In fact UNLV gets a country club sweep - winning both tennis and golf championships in the Mountain West.

Sonny Dearth, Daily Press
As always, the ACC tournaments were filled with great competition - and for the first time, the event attracted Patrick McEnroe for online video commentary. Love it!
Other than the Wake Forest title, two things that struck on the men's side were (1) the Army-Navy classic in the Patriot League final - where the Black Knights won the championship 4-3, and (2) the College of Charleston's run to the Colonial Athletic Association tournament title. The Cougars can savor their first CAA crown for a while, edging predetermined tournament host Elon 4-3 in a semifinal before upending top-seeded UNC Wilmington 4-3 the next day.
On the women's side, North Carolina earned its first ACC tourney crown since 2011 by handling Virginia and Miami - now can the Tar Heels break through for their first NCAA team championship? I think so.
No. 44 Denver (21-2) again dominated the Summit League. It's the third year in a row that the Pioneers - with Julia O'Loughlin at No. 1, dropping Maureen Slattery of my hometown, Newport News, Va., to No. 2 - won every Summit tournament match via shutout. But this time, I expect the Pioneers to be competitive in the NCAAs. They're going to Stanford to face Texas A&M.

Marcia Frost, College Contributor
Wake Forest over Virginia was a huge shocker to me. I would have expected it more last year with Noah Rubin, but it goes to prove that Tony Bresky has been doing a great job recruiting and coaching a team, and it wasn't just about Rubin. Not taking anything away from Virginia, but it's nice to see new teams emerge from league's that were dominated by one for so many years.

Dave "Koz" Kozlowski, Inside Tennis With The Koz
The Wake Forest men's win over the highly respected and established Virginia Cavaliers - the 2013 and 2015 NCAA champions - was a tour de force. It was easy to disregard the Deacons' future after the departure of NCAA singles finalist Noah Rubin. But Tony Bresky, who learned much during his eight-year tenure under UVA coaching guru Brian Boland, was able to re-construct a highly formidable top-ten team. It will be interesting to see how well UVA bounces back - and how confident Wake will going into the big dance.
The Gainesville sun was shining for ex-Gator standout player and former Vandy men's coach Bill Tym, who was the long-time mentor of Florida men's coach Bryan Shelton. Shelton, an ATP career high No. 55 singles player and the previous NCAA Women's team championship coach at Georgia Tech, has again proven that he can recruit and manage champions. It certainly was a proud SEC gator moment as both the men's and women's teams their captured SEC Tournament titles.

Tony Minnis, College Sports Weekly host
I would have to say on the men's side, I was surprised by Wake Forest ending Virginia's nine year conference win streak and winning its first-ever ACC Championship. The Demon Deacons should have a lot of momentum heading into the NCAA Tournament.
For the women, I was impressed that Stanford went from close to not hosting opening round matches in the NCAAs to upsetting Cal and winning the PAC-12 title.
Julie Wrege, TennisRecruiting.net
Living in Atlanta, I am more tuned into ACC and SEC tennis - and men's tennis gave me two surprises in their tournaments.
Virginia looked poised to take all ten of the ACC Championships for the decade, but former UVA assistant coach Tony Bresky and his Demon Deacons of Wake Forest made history with a dramatic third-set tiebreaker at No. 6 singles to give Wake its first-ever championship.
The Georgia men had an undefeated season entering the SEC Championships and had won a convincing 5-2 victory over Florida in Athens earlier in April. But in the finals of the SEC Tournament Coach Bryan Shelton brought his Gators ready to play less than three weeks later. It was just a matter of time until Shelton brought the Gators back to national prominence, and he did so this season handing Georgia its first loss of the season in the SEC Tournament final.