Recruiting Feature
Spring Signing Week '18: Signing Week Arrives
by Julie Wrege, 9 April 2018
The countdown is over ... Signing Week is here! This Wednesday, April 11, 2018, is Signing Day - the first opportunity in 2018 for high school seniors to sign National Letters of Intent with Division I or Division II schools.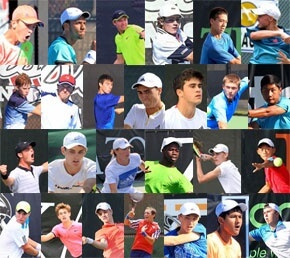 The Tennis Recruiting Network and GAMMA are ready with exclusive coverage of Spring Signing Week 2018. Check back all week for roundups, updates on the Top 100, live commitment announcements, and more - as members of the Class of 2018 make formal commitments to schools.
In this first article, we take a look at our schedule for the week, and we also update you on the status of the Top 100.
Every day this week, TRN and GAMMA will bring you special content. These articles will run in addition to our usual content - the rankings and other content that we publish from Tuesday through Friday.
Here is a quick look at our schedule for the article series ...
GAMMA Signing Week Series
Top 100 Update
Over the past few weeks, we checked out the Top 100 recruits in the Class of 2018 in our "War Room" articles (Boys, Girls). In mid-to-late March, only 10 of the boys and 13 of the girls were uncommitted.
We have been making every effort to keep up with these remaining kids, and today we give you an update. Some of these recruits have narrowed their lists, others have made decisions - and one plans to announce her commitment as part of our Signing Week coverage.
TRN has been busy collecting this information, and we are excited to share it with you. Take a look at where the boys and girls are in the recruiting process.
Boys' Status (as of April 7, 2018)
The table below shows the updated status of the Top 100 recruits who were undecided in mid-March. The Commitment column shows whether the recruit has made a verbal commitment or is undecided, while the Interests column indicates schools of interest. Rankings shown are not current rankings - but rather rankings from March 19.
Girls' Status (as of April 7, 2018)
Below we see the status for the Top 100 girls. The table uses the same format as the boys' table above. Once again, rankings shown are from the original article date on March 26.
Three More Commits
As you can see, there is not much movement in the Top 100, but three more of these highly-regarded seniors have made their decisions.
A pair of 5-Star senior boys - Colton Gromley and Tomas Kopczynski - are now off the board. Gromley, a top senior from Norcross, Ga., who posted four combined singles victories in last summer's USTA national championships, has decided to stay close to home and is heading to Georgia Tech. Kopczynski has spent the past year playing ITF tournaments exclusively, and his current ITF ranking is No. 122 after posting a career-high mark of No. 109 earlier this year. Kopczynski plans to travel from Florida to California next year to attend Stanford University.
On the girls' side, only Top-40 senior Amber Shen has made a decision. Shen, an exceptional student, considered a number of elite universities before deciding to commit to rising D-III star MIT. We will hear from Shen this afternoon in a commitment article.
One more Top 100 girl will make her commitment later this week, as 5-Star senior Taylor Melville will be announcing her decision on Signing Day. Melville will be announcing her decision from among Arkansas, Furman, Georgia, Louisville, Michigan State, and Virginia Tech.
Fast Start
The Countdown is just getting started. Come by the website at 3pm Eastern / noon Pacific to hear from Shen. In the meantime, take a look at all the great content we have in store for you in our GAMMA Countdown to Signing Day ...
About GAMMA
GAMMA is proud to sponsor the Countdown to Signing Day series of articles at TennisRecruiting.net.
Greatness is a Unique Path at GAMMA

GAMMA is a privately owned company with over a 40-year history of developing innovative products for players of all levels. Best known for GAMMA high performance irradiated tennis string, today GAMMA markets and sells an entire line of over 5,000 products including GAMMA racquets, strings, racquet accessories, tennis balls, grips, vibration dampeners, Ball Hopper® ball baskets and teaching carts, court equipment, and 10 and Under teaching aids.
Connect with GAMMA on Facebook, Twitter, Instagram, and YouTube - or on their website.
Leave a Comment
More Website News
12-Nov-2018
Signing Week 2018
With the Countdown now behind us, it's time for the main event. Tennis Recruiting and GAMMA are ready to kick off our coverage of Signing Week 2018 with a final look at the Blue Chip boys and girls.
15-Oct-2018
Countdown to Signing Day 2018
It's that time of year. We are less than a month away from the most important day on the college tennis recruiting calendar - Signing Day. November 14th is the opening of the signing period, when seniors can begin signing a National Letter of Intent with Division I and Division II schools. As always, the Tennis Recruiting Network is here to keep you up to date on everything.
12-Oct-2018
USTA Player Development Announces New Coaching Leadership
USTA Player Development announced today that Ola Malmqvist has been promoted to Director of Coaching while Kathy Rinaldi and Kent Kinnear will take over as Head of Women's and Men's Tennis, respectively. Rinaldi will continue in her role as U.S. Fed Cup Captain.