Where Are They Now?
Countdown: Embree Ready For Second Chance
by Joey Dillon, 31 October 2016
Lauren Embree had a junior and collegiate career anyone would dream of. However, even success on the pro level couldn't keep the All-American from getting burnt out. After announcing her retirement this past March, the University of Florida Gator Great is back on tour after a 6-month layoff.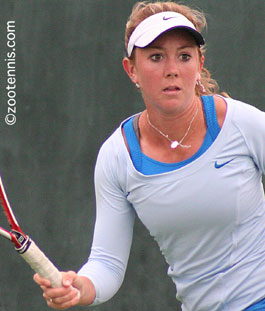 Signing Week is an exciting time for any incoming college recruit, but for Lauren Embree, it was the culmination of a brilliant junior career. Ranked as the top prospect for the class of 2009 and the No.6 ITF junior in the world, Embree had her pick of colleges to play at.
"I had my eyes on a lot of schools and kept my options open," said Embree, who listed Florida, UNC and Georgia at the top of her list. Although she didn't have a "dream" school, Embree knew her life would include a 4-year pit stop in Gainesville. "I think deep down, after communicating with the coaches, seeing the university and what they were all about, it was a pretty easy decision for me. After getting to know Dave [Balogh] and Roland [Thornqvist] throughout the process, I knew it was the perfect fit [for my personality and my tennis]."
After graduating high school, Embree won the USTA playoff to earn a wild card into the main draw of the French Open, where she lost to Nadia Petrova. A few months later she won her first match at a Grand Slam in the US Open qualifying, defeating Irina Falconi.
At Florida, Embree would win her first seven collegiate matches, all against ranked opponent, en route to a 32-6 freshman campaign and All-American honors. She was also the first-ever freshman to be named SEC Player of the Year. Was she surprised at the immediate success she had? "I'm not sure, said Embree. "Coming into college, I had set some goals for myself and had this mindset where if I worked as hard as I could, gave it my all every time - good things would happen there." Embree singled out the UF environment as inspiration to constantly do better. "I was surrounded by amazing girls and supportive coaches who all wanted the same thing. When you are surrounded by people like I was at UF, it makes the whole experience that much better. My teammates made it easy to give it my all for them every time I stepped on court."