Who's Hot?
Hot 100 List - November '16
by Amelia Thomas, 14 November 2016
Just because Fall Signing Week is now in the rearview mirror doesn't mean junior tennis players have turned down the heat. We caught up with a few notable players who kept up their strong performance this Fall in this month's Hot 100 Lists.
The Hot 100 lists are published each month, and the November Hot 100 lists feature the one hundred boys and girls who most improved their rankings during the month of October. You can find out more about the Hot 100 - and how the lists are calculated - by reading here.
The latest lists, published earlier today, are available here:
We talked to a few of these top performers...
Roundup
Rachel Bercovitch (West Palm Beach, Fla.) Rachel Bercovitch
Three-star senior Rachel Bercovitch got into tennis at a young age - almost by coincidence. She began trying different sports at the age of three, starting with gymnastics, to soccer, to golf.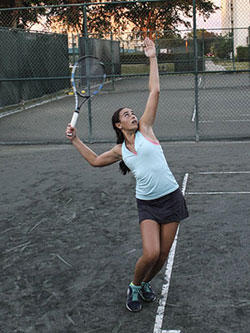 "Nothing quite resonated with me, so my parents decided to choose the path of least resistance and let me go across the street to the tennis courts," she said.
Bercovitch demonstrated a natural talent from the beginning, and at the age of seven, she began competing. She won her first ever tournament at seven years old.
The West Palm Beach, Fla., native credits her recent success to the balance between her mental and physical strength. "I've always had an athletic build, and I can be quick on the court while remaining aggressive," she said. "I have all the weapons, yet my issue in the past has been self-confidence."
Bercovitch recently started training with a new coach, Devin Mullings. "He's really emphasized that, regardless of the outcome of a match, you play on your own terms," Bercovitch said. "As simple as that might seem, it actually requires a lot of mental effort. Not being too hard on myself, staying positive and avoiding becoming anxious have been my main goals."
The three-star senior used these new techniques in an important match last month. She met five-star eighth-grader Tara Malik in the semifinals of the Fountains L7 Tournament. "Going into the match, I trusted that I would do my best and that regardless of the outcome my focus should be on improving my game overall by working on my goals," Bercovitch said.
This positive attitude carried Bercovitch through the match. "I had watched her play before and knew she was good. All of her shots are powerful and land deep, and she's crafty," Bercovitch said. "I realized that countering her game wouldn't be effective, so I decided to move her around as much as possible with really powerful shots."
This strategy worked, and Bercovitch won, 6-3; 6-1. She went on to become the champion of the Fountains L7 Tournament. Also in October, she won the playoffs of a Florida Sectional. She earned a 9-1 overall record for the month of October.
Bercovitch's competitive nature is not limited to sports. She is an active member on her school's debate team. "It offers a verbal competitive atmosphere rather than a physical one, and it's all about who can present their arguments in a smarter or more appealing manner," she said. She has won both local and college-hosted debate tournaments for her high school.
Her success in competitive atmospheres has Bercovitch thinking about college. She is focusing on schools that offer biomolecular engineering, economics and pre-law majors.
"I want a college that can further inspire my love for learning and can shape both the career and person I strive to be one day," she said. "The tennis program aspect is also really important to me. I'm looking for a strong, close and supportive team and a knowledgeable coach who is willing to further develop his or her players."