Special from
Zoo Tennis
Trice Pickens looks up to Andre Agassi, Roger Federer and Rafael Nadal, but closer to home, another tennis player who recently embarked on a pro career offered an appealing template, leading the five-star recruit to sign with Northwestern University last fall.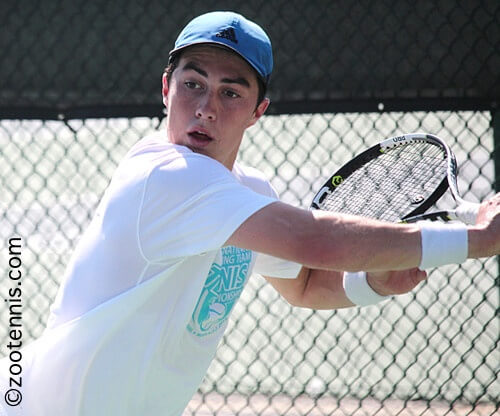 Trice Pickens Has Signed With Northwestern
©
Zoo Tennis
"Strong Kirchheimer is from the same town, Cary, North Carolina," Pickens says of the 2017 Northwestern graduate. "I had talked to him a decent amount before that and that caught my interest. I think he grew a lot in college, so they know what they're doing there, they know how to develop a player, so that piqued my interest."
The success of Kirchheimer, who recently made the final of a $25,000 Futures tournament in Canada, is just one of the reasons Pickens chose head coach Arvid Swan's program.
"I really think the main draw for me, from my unofficial visit, was that it's a very disciplined tennis program, and I think Coach Arvid really focuses on development as a college and even a pro player afterwards," Pickens says. "So that was a big part of me choosing there. The academics, you can't ignore that — that's a big part of it. I thought Northwestern is where my tennis can really prosper the most and it's a great academic opportunity."
As the No. 2 player from North Carolina in the 2018 recruiting class, trailing only 2017 Kalamazoo 18s champion Patrick Kypson, Pickens drew interest from many schools across the country and took a handful of unofficial visits during his junior year.
"I looked at UNC, Clemson, Texas, Yale, to name a few," Pickens says. "I took an unofficial to N.C. State really young, just because I've always practiced there a decent amount."
After fielding calls and emailing a few schools he did not hear from at the beginning of his junior year, Pickens began to get serious about the recruiting process.
"Eventually I got it down to maybe 10 schools, then whittled it down," says Pickens, who verbally committed in the spring of his junior year. "Northwestern was my top school, definitely after my unofficial, but even before that."