Recruiting Profile
Blue Chip Cerdan Bound for Maize and Blue
by
Colette Lewis
, 23 March 2018
With 23 offers, blue chip Andrea Cerdan could have been overwhelmed by the next step in the recruiting process. But three factors put the 16-year-old from Bloomfield, New Jersey on the path toward the University of Michigan: a promising unofficial visit, a love of indoor tennis and her coaches.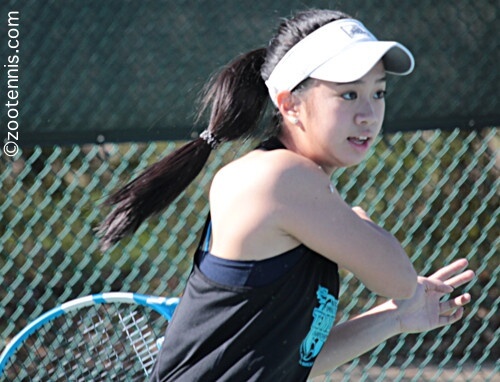 Andrea Cerdan Has Committed To Michigan
©
Zoo Tennis
"I took my unofficial on October 10th," says Cerdan, who committed last November and will join the Wolverines in the fall of 2019. "I met up with [head] Coach Ronni [Bernstein] and Coach Teryn [Ashley-Fitch], and when I walked into the campus, I fell in love. It's within Ann Arbor and that's what I really like. I don't like a secluded college; I don't like acres of trees or whatever. I like where it's within a city, but not too busy. The campus was really nice."
Cerdan, New Jersey's top recruit in the class of 2019, trains at the Garden State Tennis Center, where owner and director John Costanzo and coach Mike Sroczynski are alumni of the Michigan men's program.
"They were suggesting Michigan ever since I was a sophomore," says Cerdan, who has trained at the Edison, New Jersey facility since the fifth grade. "They were like, I think you'd be a perfect fit for Michigan. We loved it so much, so we think it would be perfect for you."
While loyal to his alma mater, Costanzo was careful not to push too hard for Michigan.
"I didn't want to sway her, because I knew she had a lot of good options," says Costanzo, who graduated in 1996. "She was looking at Notre Dame and North Carolina also. Mike and I really loved our time at Michigan and it's really a good place for a Northeastern kid to go play. It's indoor tennis, where we grew up playing, colder weather, and we're kind of used to that. And our styles are really geared for that."