Player Advice
Building A Game: The Tennis Imagination
by Joel Drucker, 27 November 2016
The boy, call him Antonio, was 15 years old and rapidly improving. Lately he'd even practiced with a man who'd competed extensively on the ATP World Tour. The ex-pro told the mother how good the boy's groundstrokes were. He also made a comment that left her confused: Antonio will get even better once he learns how to build a volley game.
A volley game? What was that?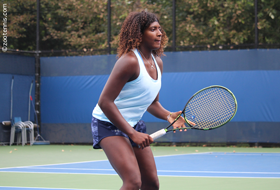 Were his volleys not good? She'd watched many of Antonio's lessons and when he struck volleys they seemed pretty sharp. Boom, boom, boom. Crack, crack, crack. And she remembered that one match in the 14s when he'd turned the tide by coming to net frequently.
Then there was Felicia, who worshipped Roger Federer. But her parents were concerned. Federer, after all, was an off-the-charts genius, the kind of tennis player who comes along perhaps once a century. The parents spoke to the coach, wondering if it was plausible for their 13-year-old to try and mimic Federer's creative brilliance.
And what about David? He was an ambitious 12-year-old who'd just started to play doubles with the better men at his club. When one of the men suggested David serve and volley in these doubles matches rather than whack his big forehand from the baseline, David's father countered by pointing out that was how kids today played and that to serve and volley would be rather dangerous.
Volley game. Creative brilliance. Serve and volley. Junior tennis is filled with parents, players and instructors who fail to grasp these concepts - and, alas, for all their good intentions, pay the price. Do their junior rankings suffer? Questionable. Do they lose college tennis opportunities? Not necessarily.
Missing the Riches
Here's where they miss out: Junior tennis abounds with players adept at contemporary tennis: a certain kind of attrition-based, narrowly-focused baseline game, a playing style that begins with consistency and in time adds some weaponry from the ground. This default mode certainly generates outcomes in the form of match wins, rankings and scholarships.
But what about a long-term, sustainable process for staying engaged with the tennis? Talk of strokes - that is, groundstrokes - is plentiful. Call that the composition aspect. But talk of a playing style - the rich literature - is minimal.